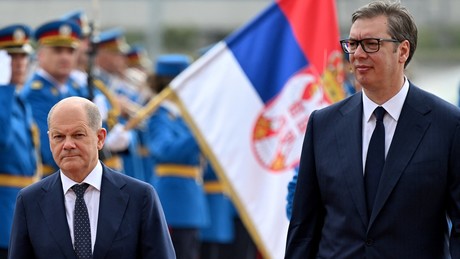 Allegedly, Serbian President Aleksandar Vučić was very surprised when Chancellor Olaf Scholz clearly and unequivocally declared during his visit to Serbia a few days ago that Serbia would not be able to join the EU without recognizing Kosovo's independence. During his stay in Belgrade and before that in the Kosovar capital Priština, Scholz said that "mutual recognition is necessary" in order to become part of the international community.
However, according to many political analysts and journalists in Serbia, Scholz had not brought anything in his "suitcase" with him for his demand. The references – without naming a specific date – to a "European perspective" of the country alone are therefore not enough to persuade Vučić to make such a "sacrifice". Belgrade considers Kosovo and Metohija, as the breakaway province is officially called in Serbian, as part of its state territory. Such a step by Vučić would not meet with the approval of the population either, as polls show. According to a recent survey, almost 85 percent of respondents said they were not willing to recognize Kosovo's independence in exchange for EU membership.
News also reached Serbia this week from Brussels that the European Parliament's Foreign Affairs Committee (AFET) on Tuesday adopted a report stressing that "a final agreement between Serbia and Kosovo must result in mutual recognition". At the same time, the report called on Serbia once again to align its foreign policy with that of the EU and to impose sanctions on Russia because of its military offensive in Ukraine. When asked about this, the Serbian President said:
"Mutual recognition is their wish, we don't want that."
Just a few days ago, Vučić emphasized that Serbia knows that you have to live and work side by side with your neighbors. But when it comes to "interfering with the status and territorial integrity of the state," Vučić continued, "we say: We respect international law, which the whole world relies on." At the same time he pointed out that Serbia is still "absolutely" on the "European path" and will remain so. In this context, Vučić particularly emphasized the importance of investments from other European countries in Serbia, without which the economy would be in a much worse position.
more on the subject – Serbia secures new energy deal with Russia