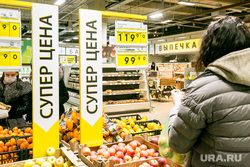 In Russia, apples have risen in price, but chicken and eggs have fallen in price
A photo: Denis Morgunov © URA.RU
news from the story
Prices for goods in Russia
Prices for potatoes, margarine and sunflower oil went up last week, while household appliances and electronics fell in price. This was reported in Rosstat.
Have fallen in price:
In Russia, on average, according to the observed weekly positions, prices for vegetables and fruits fell by 0.3%. Cabbage has become cheaper;
Cheaper chicken meat (by 0.1%) and eggs (by 2.8%);
Sugar fell in price by 0.5%;
Household appliances and electronics are getting cheaper;
The cost of gasoline has decreased by 0.02%;
The cost of nine out of ten medicines from the weekly observation kit has decreased. Levomekol became cheaper by 2.49%, validol went up by 0.11%.
Have risen in price:
Potato prices rose by 3.34%, onions – by 4.41%. Apples became more expensive by 1.67%, bananas – by 1.11%;
Margarine added 1.39% over the week, from the beginning of the year – 31.86%, while the rate of growth in value decreased. Sunflower oil for the week has become more expensive by 0.51%, since the beginning of the year – by 12.46%;
The growth rates of prices for sausages and meat products, milk and dairy products, as well as flour, cereals and confectionery products slowed down.
Hygienic goods remain the leaders in terms of price growth. The price of toilet soap increased by 1.26%, from the beginning of the year – by 32.44%. Toothbrushes became more expensive by 1.35% per week, from the beginning of the year – by 22.17%. Diesel fuel became more expensive by 0.04%.
Continue to receive URA.RU news even if Google blocks it, subscribe to URA.RU telegram channel
Prices for potatoes, margarine and sunflower oil went up last week, while household appliances and electronics fell in price. This was reported in Rosstat. Decreased: Increased: