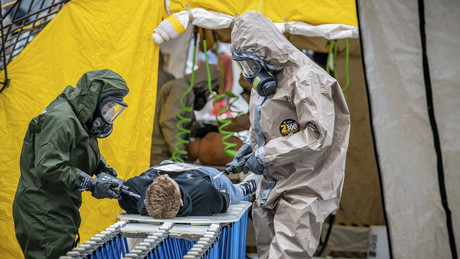 In a series of exercises, NATO has trained its response to chemical, biological, radiological and nuclear incidents. In an increasingly connected world, effective prevention and response depends on collaboration between international actors to develop practices to address these threats.
Chemical, biological, radiological and nuclear (CBRN) weapons are among the most dangerous weapons in the world. In view of the current geopolitically uncertain situation, it must therefore be ensured that soldiers and first responders are prepared for the possible use of such weapons of mass destruction. Against this background, military experts from 13 nations trained in dealing with the consequences of a CBRN attack at a joint NATO exercise in the Czech Republic in early August.
During the exercise, which took place in the town of Tisá near the German border, the military specialists trained, among other things, in the treatment, decontamination and care of victims of a CBRN attack, as the Royal Navy announced on its website.
CBRN is used as an international umbrella term for chemical, biological and radiological compounds in any physical state and in any form that can pose a danger to the population and also areas. This includes compounds that can be used for the development or deployment of weapons of mass destruction and CBRN weapons.
For four days, responders exchanged knowledge and treated mock victims at the site of a former chemical and biological testing site, while the Forward Surgical Commando Group, a Royal Marines medical response team, a marine infantry unit from the British Royal Navy, and the rest of the participants from the United Kingdom demonstrated the techniques and procedures used.
The Commando Logistics Regiment's Forward Surgical Commando Group, based in North Devon, is deployed wherever the Royal Marines operate. She is responsible for treating the injured on site and must therefore be able to set up medical care facilities within a very short time. During the four-day exercise, she stood at the forefront of the casualty decontamination area.
"Scenarios like these are necessary to keep us grounded and prepared to efficiently treat and care for CBRN casualties that we may expect to encounter during a mission," medical assistant Jack Franklin said in the statement quoted. Every member of the medical team deployed in the decontamination area must be able to assess the situation. "This was critical for the triage paramedic at the head of the facility, who decides based on protocol who gets treatment first. In real time, this is going to be a very difficult task," Franklin continued.
"Realistically, in combat, not everyone will survive. Prioritizing a casualty with a better chance of surviving over a casualty with serious injuries is key to preventing our limited time and resources from being quickly consumed, which may prevent us from treating other accident victims with injuries we can be confident of surviving."
The primary objective of the exercise was to ensure Soldiers had a common knowledge base and a basic level of preparedness for responding to CBRN incidents. "From a Royal Marine's perspective, it was a great insight into how the Royal Navy and Royal Marines worked together during an exercise like this and into the medical treatment itself," said Marine George Blake of Commando Logistics Regiment:
"With no previous experience as a crew medic or experience of CBRN injuries, I can now say with confidence that if something unfortunate happens and the Royal Marines are called back to help, we have no problem knowing what to do."
According to the Royal Navy, the real-time tests at Tisá came after a period of theoretical studies, as well as practical exercises and medical simulations, all part of an important training program designed to improve the operational readiness of the CBRN Response Force.
NATO also trained in Canada
This training program also includes the annual exercise called "Precise Response", which took place almost simultaneously at Canadian Forces Base Suffield in Canada. The US Army's website said highly qualified units from 13 countries took part in last month's CBRN exercise to train the NATO Response Force's CBRN counter-battalion for the mission.
The CBRN Response Battalion is a NATO unit created specifically to deal with CBRN incidents and attacks. It reports to NATO's Combined Joint CBRN Defense Task Force, a deployable Alliance military command facility. The mission of the Combined Joint CBRN Defense Task Force is to provide a rapidly deployable and credible CBRN countermeasures capability to maintain NATO's freedom of action and operational effectiveness in an environment characterized by CBRN threats.
The exercise was organized by Defense Research and Development Canada, a research agency of the Canadian Department of Defense. It is the country's contribution to NATO's CRBN Defense Battalion. "We're trying to develop as many realistic scenarios as possible," said Major Christian Lepage, trainer with the Canadian Armed Forces. "The more demanding the scenarios are, the easier it is for the nation to react in an emergency."
The scenarios offer soldiers the opportunity to practice tactics, technology and procedures (TTP) in a controlled environment. "It can be chemical-biological or radiological situations," says Lepage. "It could be a meth lab, a chemistry lab, legal or illegal. It could be a car accident where a radiological device was found because someone took it from point A to point B." According to the major, the more difficult and complex the simulation, the better.
"We learned completely new operational procedures here and developed our own CBRN sampling procedures from scratch," said Major Gerald Bauer, head of the Austrian delegation and task force commander. "It's a great experience to see the other nations approaching the same goal with different methods so that you can learn from each other and develop."
The main focus of the annual three-week exercise is to test and optimize the interoperability of troops. Because interoperability is the basic building block for multinational operations. It enables NATO member states and partners to work side-by-side in military operations. Nations are given a period of time to familiarize themselves with the scenarios before being divided into international task forces.
"It may be that an Austrian commander has many sub-units under him – a French decontamination unit, an American mobile laboratory, etc.," Lepage continued. "These commanders act as if they were in a real situation and interact with various stakeholders. We emphasize this here to facilitate the later process." During the exercise, the task forces of the individual nations therefore also learn how to overcome language and process barriers.
"Interoperability is very important for CRBN services because international missions always bring groups together, and that's in a military context," said Major Bauer. "So you have to know and trust each other, and the best way to build that trust is to practice together."
Shannelle Adam of the Canadian Armed Forces explained that working with other nations gave her an opportunity to learn new ways of conducting CBRN operations. "The highlight for me was being able to gain knowledge from other countries and now I'm able to go back to my unit and come up with some ideas to implement positive change," said Adam, who has been a military medic for the past six years . By working with real agents the training feels much more real.
"We always like to practice how we fight here. In the event that there should be a CBRN threat in the future, we now feel more secure because we are in training with real ones agents have worked."
Stoltenberg: Take action to support Ukraine
According to its own statements, NATO is reacting to the Russian special operation in Ukraine with the intensified training efforts. "We are taking measures to support Ukraine, but also to defend ourselves," NATO Secretary General Jens Stoltenberg said at a special summit in Brussels in March. "Any use of chemical weapons would completely change the character of the conflict," said Stoltenberg. That is why US Air Force General Tod Wolters also activated NATO's CBRN defense element, the CBRN Defense Battalion:
"Allies are deploying additional chemical, biological and nuclear defenses to bolster our existing and new battlegroups."
As the Air Force Magazine reported in March, citing a NATO official, the NATO Response Force's CBRN units currently command around 400 soldiers:
"They are not on duty at the moment, but are being put on increased alert."
Risk of CBRN incidents increasing
Anywhere in the world, the risk of dangerous chemical, biological, radiological and nuclear incidents in military or even civilian scenarios is very real – with potentially devastating consequences for people and the environment. It doesn't matter how serious a CBRN incident is. An event that theoretically has no major impact on society, the environment or infrastructure can still spread fear and terror in the world. Thanks to modern technology, the production of hazardous substances is now easier than it was a few years ago, and with it the likelihood of an incident increasing.
Toxic chemicals used in industry and agriculture can be obtained relatively cheaply and easily in most parts of the world. For example, in 1995, a Japanese cult released sarin gas on the Tokyo subway. The attack killed 13 people and injured more than 2,000. Chemical weapons have also reportedly been used in the Syrian civil war. Whatever the reasons for a potential CBRN incident, it affects society as a whole.
More on the subject – US forces simulated an emergency: Response to attack with hypersonic missiles trained
Be the first to read breaking news on OopsTop.com. Today's latest news, and live news updates, read the most reliable English news website Oopstop.com