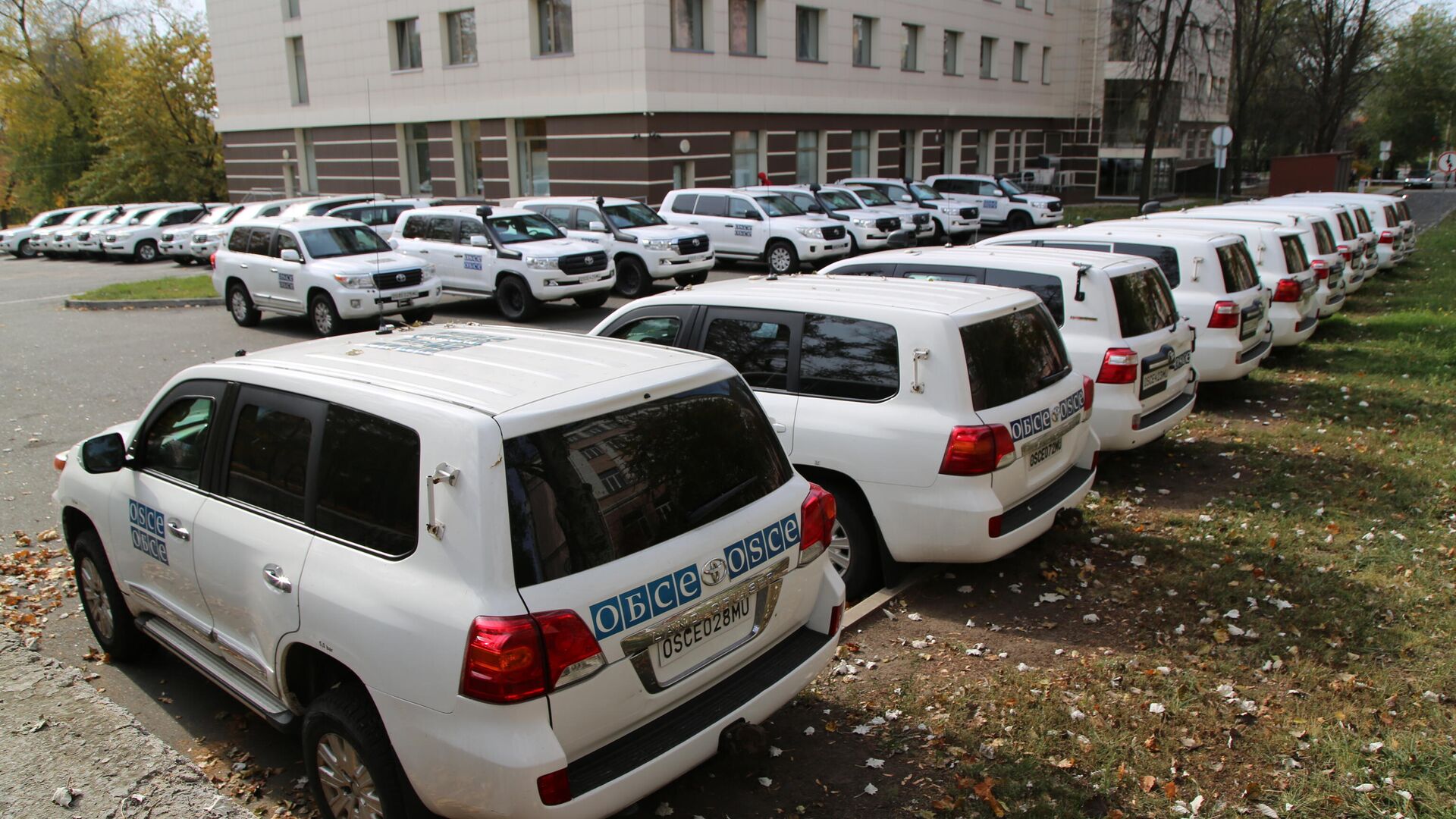 DONETSK, 21 October – Three cars of the OSCE Special Monitoring Mission left the territory of a hotel in the center of Donetsk, which has been blocked by activists for a week, the correspondent reports.
Earlier it was reported that a protest rally was taking place near the hotel in the center of Donetsk, where the OSCE SMM are accommodated. Those present express dissatisfaction with the actions of the observers at the time of the capture of the LPR representative in the Joint Center for Control and Coordination of the Ceasefire Regime. In addition, activists are dissatisfied with the work of the mission in Donbass in general.
Three vehicles of the OSCE Special Monitoring Mission observers left the hotel. The activists did not interfere with the vehicles leaving. At the moment the OSCE cars started to move, the music "Farewell of a Slav" was played, the correspondent reports.
The LPR said earlier that the Ukrainian saboteurs, during the work agreed with Kiev at the withdrawal area near the city of Zolote in Donbass, captured the representative of Luhansk in the JCCC, Andrey Kosyak. In Kiev, they claim that an employee of the department was detained because he was conducting reconnaissance of the positions of the Ukrainian security forces. The LPR denied this information. The People's Police of the LPR accused the special services of Ukraine of torture and the use of psychotropic substances during the interrogation of a representative of the LPR, and the OSCE SMM – of inaction on the issue of his release. The LPR representative office in the JCCC on Thursday cut off all contacts with Kiev, and on Friday also withdrew all security guarantees previously given to work at the contact line and restricted the movement of patrols along a number of routes.
In April 2014, the Ukrainian authorities launched a military operation against the self-proclaimed DPR and LPR, which declared independence after the coup d'etat in Kiev in February 2014. According to the latest UN data, about 13 thousand people became victims of the conflict. The issue of resolving the situation in Donbass is being discussed, among other things, during the meetings of the Minsk contact group, which since September 2014 has already adopted three documents regulating steps to de-escalate the conflict. However, even after the armistice agreements between the parties to the conflict, shootings continue.
…