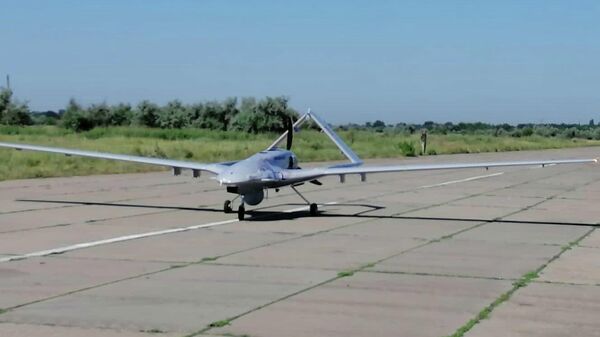 MOSCOW, October 27 –
The General Staff of the Armed Forces of Ukraine showed the first combat use of a Turkish-made Bayraktar drone in Donbass. The corresponding video was published on the official page of the General Staff in
Facebook
…
The video captures the moment of a missile strike on the howitzer and the scattering gunners. Inaudible comments are heard off-screen.
It is not clear from the video exactly when, where and under what circumstances the strike was struck.
As follows from the statement of the General Staff, the order to use the drone was given by the Commander-in-Chief of the Armed Forces of Ukraine, Lieutenant General Valery Zaluzhny. The press service claims that the Turkish-made drone did not cross the contact line.
Bayraktar is said to have destroyed a bomb-guided artillery piece.
In April 2014, the Ukrainian authorities launched a military operation against the self-proclaimed LPR and DPR, which declared independence after the coup d'etat in Ukraine in February 2014. According to the latest UN data, about 13 thousand people became victims of the conflict.
However, skirmishes in the region continue, although additional measures are in place to ensure a ceasefire. They imply a complete ban on firing, placing weapons in and near settlements, offensive and reconnaissance and sabotage actions, as well as the use of drones.
…