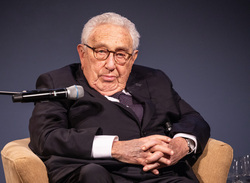 Former US Secretary of State Henry Kissinger died at the age of 100. He died at his home in Connecticut. URA.RU has collected detailed information in its material about what the American politician is known for.
Biography
Henry Kissinger was born in the Weimar Republic on May 27, 1923. Outstanding American politician and diplomat. He served as US Secretary of State from 1973 to 1977 under Presidents Richard Nixon and Gerald Ford.
His parents were Jews who moved to the United States due to Nazi persecution. In New York, Henry attended high school while working in a factory. He later went to college, but was drafted into the army in 1943. During his service, Kissinger became involved in military intelligence and participated in various military operations, including the Battle of the Bulge.
Kissinger was educated at Harvard University, where he later became a professor and expert on international relations. During his time in government, he played a key role in establishing ties with the Soviet Union and China, and in negotiating an end to the Vietnam War.
He was a security expert for three presidents: Dwight Eisenhower, John Kennedy and Lyndon Johnson. He led research into nuclear weapons and foreign policy, wrote a book on nuclear doctrine, and held senior positions in various government agencies.
During the Nixon presidency, he became the head of the National Security Council and Secretary of State, combining these positions. He remained Secretary of State under Ford. Kissinger played a key role in US foreign policy and was nicknamed "the patriarch of American foreign policy".
Henry Kissinger is considered an expert in the field of international relations and his main achievement is the establishment of relations between the USA, the USSR and the PRC. He reached an agreement between the leaders of the Soviet Union and the United States to reduce strategic weapons.
For his achievements, Kissinger was awarded the Nobel Peace Prize in 1973 for his contributions to the peaceful resolution of international conflicts. After leaving the government, he continued to work in the field of foreign policy, engaging in consulting and journalism.
Famous statements about Russia and the situation in Ukraine
Henry Kissinger believes that Russia launched a special operation in response to the proposal to admit Ukraine to NATO and the ambivalent relationship between the Russian authorities and Europe. He believes that this proposal was a mistake and led to conflict.
American authorities did not take Russia's security guarantee project seriously. The former Secretary of State believed that although the agreement was unacceptable, it could become a starting point for dialogue. Kissinger suggests that the project was ignored because of Secretary of State Wendy Sherman's personal dislike of Russia.
To end the conflict, Ukraine must refuse to join NATO and maintain a neutral status. Kyiv's entry into the alliance will lead to Russia losing strategic defense depth. Kissinger did not describe how Ukraine's security as a neutral buffer state could be guaranteed. He also noted that Russia suffers from a constant feeling of insecurity due to its large territory and lack of geographical protection.
Kissinger called for ending the conflict in Ukraine through negotiations, warning of a possible escalation if it continued. He expressed hope for agreement between NATO countries regarding the outcome of the negotiations and the achievable outcome.
The United States of America is on the brink of war with Russia and China due to inept foreign policy. Kissinger expressed concern about the consequences of artificially created tensions and the lack of clarity regarding developments.
Henry Kissinger noted that Russia played an important role in world history, protecting Europe from various threats and crushing enemies. He also emphasized that Russian values ​​are unchanged, and attempts to transform the country by force will not be successful. Kissinger calls for a special approach in relations with Russia, taking into account its historical dignity.
If you want to share news, write to us
(source:ura)

Be the first to read breaking news on OopsTop.com. Today's latest news, and live news updates, read the most reliable English news website Oopstop.com