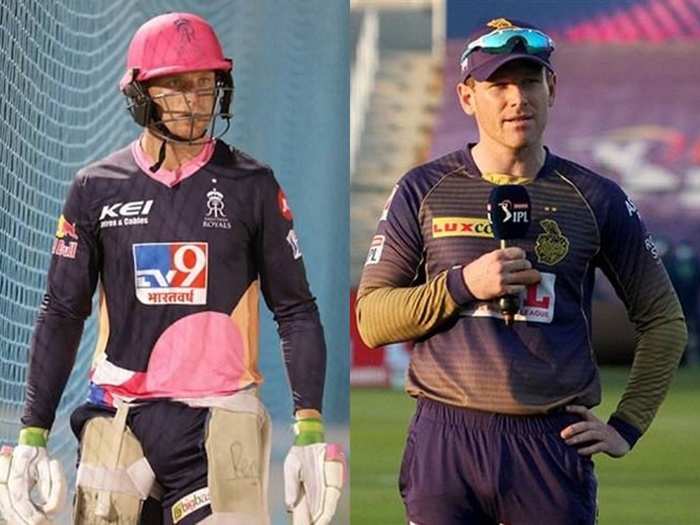 While McCullum's case may be complicated, he may have to apologize and it will be interesting to see whether the KKR management will be comfortable sitting in the 'dug-out' with him for the remainder of the tournament.
New Delhi
Eoin Morgan and Jos Buttler not playing the second leg of the Indian Premier League could save them from bans from their respective franchises Kolkata Knight Riders and Rajasthan Royals in 2017 for their alleged racist tweet posts about Indians. The England and Wales Cricket Board has suspended fast bowler Ollie Robinson for making racist tweets about the Muslim community and Asian people.


After Robinson was suspended, Butler and Morgan's tweets using the word 'sir' to mock Indians also spread on social media. The Indian Premier League (IPL) will resume in the United Arab Emirates from September 19.

A senior official of the Board of Control for Cricket in India (BCCI) said on the condition of anonymity, "Kolkata Knight Riders (KKR) and Rajasthan Royals will be in trouble as these players are earning money from the IPL and in 2017 they were making fun of Indians that they are doing this. How do you talk in English?

He said, 'Now you can ignore these posts, but they tell what their general perception is about Indians. It is a complicated matter but KKR and Rajasthan Royals have a way out of it.

According to the report, 'Screenshots of one of Butler's tweets were shared in which he says 'I always reply sir, no one likes you like me, like me' and Morgan included Butler in a message , which said, 'Sir, you are my favorite batsman.' And KKR head coach Brendon McCullum also reportedly joined the conversation.

The source, who has worked as a BCCI official since the first phase of the IPL, said an unconditional apology was fine, but beyond that the board and the franchise "should not drag it".

"First of all, if Shah Rukh Khan and Manoj Badale are mindful of the image of their respective franchises, then an apology statement from both Morgan and Butler will suffice. Now that the ECB is not allowing him to take part in the second leg of the IPL due to his commitments, the suspension would not make much sense. If you are suspending those players who are not coming to play for the second leg, then it will be just a sham.

Many in the BCCI feel that it would be wise not to indulge in the 'barr's hive' as there may be some YouTube videos of some players criticizing or commenting on others which may now become public. Suspending Morgan could be easy for KKR as the franchise has a slim chance of breaking into the top four in the remaining IPL to be played in the UAE from September 19 to October 15.
.