The world's most expensive mango is being cultivated in MP's Jabalpur. The cost of a mango in the international market is Rs 2.70 lakh. Sankalp Parihar is cultivating it in Chargawan of Jabalpur. Thieves also keep an eye on this mango.
Highlights:
Japanese mango cultivation in Chargawan, Jabalpur, MP
The price of a mango in the international market is Rs 2.70 lakh
Sankalp Parihar has planted this mango tree in his garden in Chargawan, Jabalpur
People come from far and wide to see the precious mango
Jabalpur
Mouth waters as soon as you hear the name of mango. Such a mango is being cultivated in Jabalpur, hearing the price of which will blow your senses. If the common man wants to taste this mango, then he may need a loan. You must be surprised to hear this, but it is a fact. The mango in this garden of Jabalpur is worth Rs 2.70 lakh. Meaning you have to pay 2.70 thousand rupees to eat a mango.
This mango is not cultivated anywhere else in India. The Japanese mango is known as Tamago. It is in great demand in the international market. In Japanese it is known as 'Taiyo no Tamago'. Different varieties of mangoes are found in India, in which many varieties of mangoes are found including Dashari, Totapari, Langda Mango, Desi Mango, Hapus. This is the reason why the mangoes of India are discussed abroad. Hapus/Alphonso mangoes in India are considered to be the most expensive mangoes in the country. At the same time, the world's most expensive mango is Japan's Tamago.
10 thousand doses of Kovishield missing in MP, no trace of whoever bought it
Tamago is being cultivated in Jabalpur
Tamago Mango is now being grown in MP's Sanskardhani Jabalpur. Sankalp Parihar, who lives in Chargawan, Jabalpur, is growing this mango in his gardens. Sankalp Parihar has planted 14 different varieties of mangoes in his 4-acre garden and has also planted 52 Tamagom trees.
'Noor Jahan' mango gets booked as soon as it is planted on the tree… the taste is such that people are ready to pay up to ₹ 1000, know the merits
A mango costs Rs 2.70 lakh
The cost of one piece of Tamago Mango is being told in the international market as Rs 2 lakh 70 thousand. Sankalp Parihar, who cultivates this mango, said that in Japan this mango is grown in a safe environment inside poly houses. In Jabalpur, we planted it as an experiment and this mango liked the atmosphere of Jabalpur and grew here.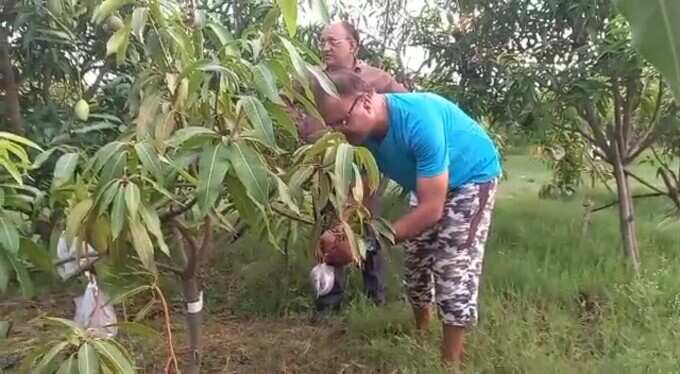 Parihar explains that tamago is redis coloured, due to which it is also called Egg of Sun. This mango is delicious to eat. This is the reason why it is popular in Japan. Sankalp Parihar explains that Malika and Hapus mangoes are also cultivated in his garden. The demand for Malika mango is high in India.
Not a single person got vaccinated in 47 villages, villagers started assaulting health workers
Been doing farming for three years
Sankalp Parihar said that we have been cultivating Tamago Mango for three years. He said that due to the cultivation of this mango in Jabalpur, the fame of Jabalpur has reached the international level. Growing this mango is not so easy, after planting it, very few fruits come on its tree. Ever since Japanese mangoes have started growing in Sankalp Parihar's garden, the eyes of thieves are also on his garden.
Bhagalpur News: Why the new variety of mango was named 'Modi Mango', listen to the story behind it by the Mango Man of Bihar
Wake up at night and guard the mango
He said that we along with our wife Rani Parihar guard the mango orchard at night. The fame of Japanese mango being grown in Jabalpur has spread across the country but the Horticulture Department has not yet paid attention to the mango orchard of Sankalp Parihar. If the Horticulture Department pays more attention to this, then other farmers can also take advantage of Japanese mango cultivation.
CM Shivraj reached Pachmarhi to celebrate wife Sadhna Singh's birthday, distance from media
Not selling yet
Sankalp Parihar is not selling this mango right now. He said that last year some people from Mumbai and Surat had inquired about it. But we try to save our plants first. Its demand is high in the international market. Keeping that in mind, we are cultivating it.
plant found in train
He told that a gentleman had given Japanese mango saplings while going from Jabalpur to Hyderabad train. Japanese mango plants were brought home and planted in the garden. Take care of them from time to time and today this mango has made me famous.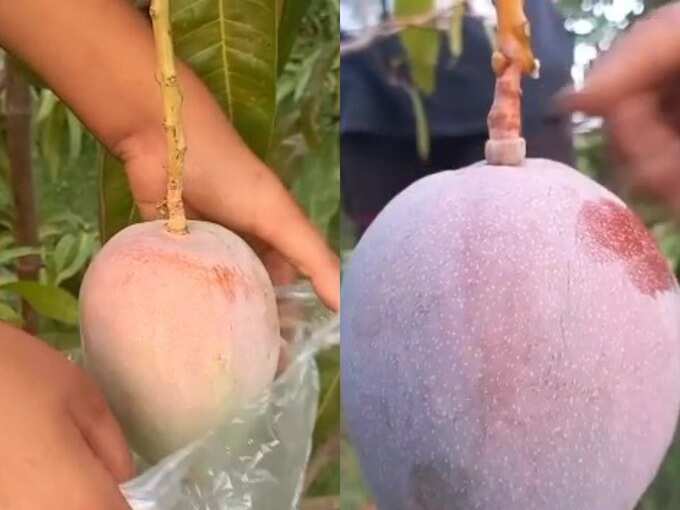 .