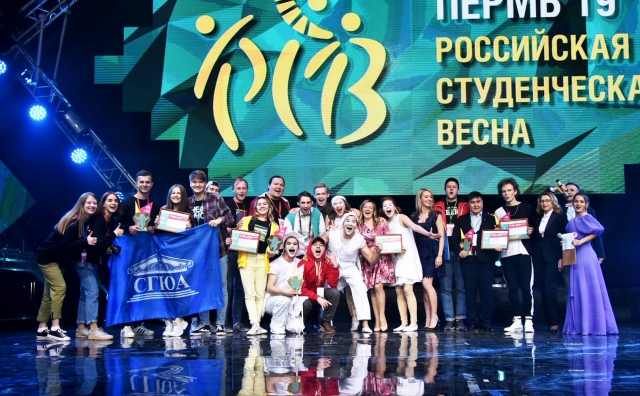 The XXX All-Russian Festival "Russian Student Spring" will be held in Samara from May 18 to 24 as part of the Year of the Cultural Heritage of the Peoples of Russia, the federal project "Social Elevators for Everyone", the national project "Education". Participants compete in ten areas: vocal, instrumental, dance, theatrical, original genre, fashion, art, regional program, as well as video and journalism. According to the organizers, the Russian Student Spring will be the largest creative event for university students in 2022.
Ksenia Razuvaeva, head of the department, spoke about the prospects for supporting the creative development of students and schoolchildren in the ecosystem of the Federal Agency for Youth Affairs (Rosmolodezh).
"This Student Spring promises to be unprecedented, so we urge everyone to follow what is happening on the sites and beyond. I note that creative youth has always been in the focus of attention of Rosmolodezh. We are building a common ecosystem of talent support starting from childhood. We have a project " Big break", where the main direction is "Create". "Big break" has become a huge platform for all children and has collected all the creative directions that exist now. The guys take part in various castings, they select both for the Voice project and "Children's KVN". There is also an annual tradition of creating a musical. Already this year, the participants of the "Big Change" will become participants in the first "Russian School Spring", — said Razuvaeva.
The final of the XXX All-Russian Festival "Russian Student Spring" will include competitions in 62 creative categories in ten areas. This was announced by Alexei Agafonov, First Deputy General Director of the ANO "Russia – the Land of Opportunities".
"The thirtieth anniversary festival will be held on a very global scale. It will be a big show in which a large number of young people are involved. In 1993, the festival was first held in Samara, then students could take part in four creative categories. Today they already compete in 62 categories and 140 sub-nominations in ten directions", – he said.
The readiness of the region to receive participants and guests of the festival was commented by the governor of the Samara region Dmitry Azarov.
"The All-Russian Student Spring is the most massive student youth movement in the country. And it is no coincidence that the anniversary Student Spring takes place in Samara, because this festival was born here. In the 60s, these were local university festivals, and already in 1993 it was born the idea of ​​the all-Russian "Studentspring", and for six years in a row it was held in our city. And for us, of course, it is very important that the jubilee XXX "Studspring" returned to its native land. At the initiative of the students, we came out with a competitive application, won the competition and accept "Studesna", — noted the head of the region.