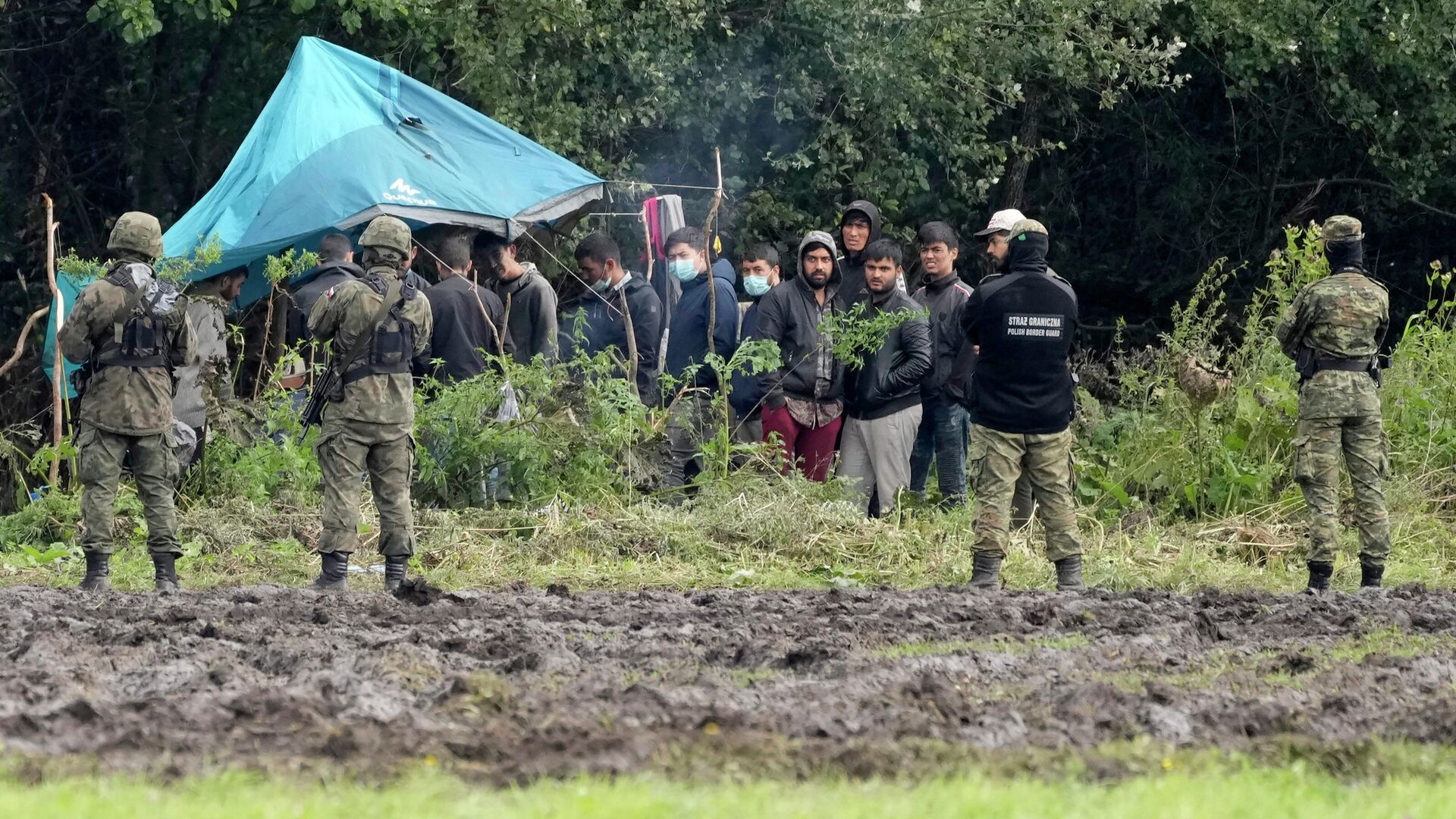 MINSK, 8 Nov –
The number of refugees who approached the border of Belarus with Poland on Monday is estimated at three thousand people, they cut trees, light fires and put up tents, follows from the photographs published by the state Belarusian
agency Belt
…
Earlier, the State Border Committee of Belarus reported that a large group of refugees is moving to the border of Belarus with Poland, there are over a thousand people, many women and children.
The footage published by the agency shows dozens of migrants with backpacks, bags, bottles of water, they are in a wooded area next to a barbed wire fence, on which a sign in Polish is installed about the passage of the border and the inadmissibility of crossing it. On the other side of the fence, there are Polish security forces in ammunition and with shields and their special vehicles, a helicopter is hovering in the sky.
Among the refugees, judging by the photographs, there are many women and children, including babies. Some of the footage shows tents set up by refugees, sleeping bags, campfires around which migrants warm themselves, and tree trunks that have fallen on barbed wire. Also in one of the photos you can see a collapsed boom.
The agency also publishes a photo in which five men carry a man on an impromptu stretcher. The message explains that this is the result of the use of tear gas by the Polish security forces. "We are being poured with gas. See what happens," the agency quotes the elderly man as saying. The report notes that his son was brought on an impromptu stretcher from the border. "In a mixture of languages, he explains: the young man's legs have lost, he can no longer walk. The word" Gas! "Is repeated over and over again by an elderly woman," the message says.
The agency claims that "now at the Polish border, according to the estimates of the refugees themselves, they have accumulated about three thousand."
Recently, Lithuania, Latvia and Poland reported an increase in the number of detained illegal migrants on the border with Belarus, accusing Minsk of creating a migration crisis. Minsk rejects all charges. In connection with the situation, the President of Poland introduced a state of emergency on the territories bordering with Belarus, the army and the police were involved in protecting the border. President of Belarus Alexander Lukashenko noted that Minsk will no longer restrain the flow of illegal migrants to the EU countries: because of the West's sanctions, there is "neither money, nor effort." The border guards of Belarus have repeatedly stated about the forcible expulsion of migrants by Lithuania, Poland and Latvia to the Belarusian territory.
…