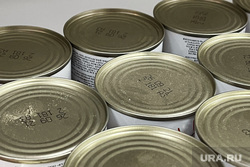 Products are needed for security
A photo: Ekaterina Sychkova © URA.RU
The Perm City Hall announced the purchase of more than 5 tons of canned fish for more than 2 million rubles. The information is posted on the State Procurement website.
Canned natural fish (sardine). Quantity: 5,282.80 kg. Cost: 2,122,100.76 rubles. The supply of food products is carried out within the framework of the municipal Safe City program, "the tender documentation on the State Procurement portal states.
As explained to URA.RU in the city department of economics and industrial policy, the purchase of canned food is carried out on the basis of the decree of the government of the Russian Federation "On the accumulation, storage and use of stocks of material, technical, food, medical and other means for civil defense purposes." Also, the purchase is regulated by the mayor's office resolution "On the creation and maintenance of stocks of food, medical and other means for the purposes of civil defense."
The Perm City Hall announced the purchase of more than 5 tons of canned fish for more than 2 million rubles. The information is posted on the State Procurement website. Canned natural fish (sardine). Quantity: 5,282.80 kg. Cost: 2,122,100.76 rubles. The supply of food products is carried out within the framework of the municipal Safe City program, "the tender documentation on the State Procurement portal states. As explained to URA.RU in the city department of economics and industrial policy, the purchase of canned food is carried out on the basis of the decree of the government of the Russian Federation "On the accumulation, storage and use of stocks of material, technical, food, medical and other means for civil defense purposes." Also, the purchase is regulated by the mayor's office resolution "On the creation and maintenance of stocks of food, medical and other means for the purposes of civil defense."