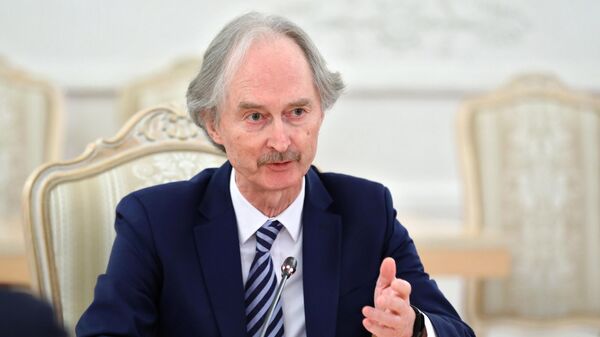 UN, 22 Oct – UN Special Representative Geir Pedersen expressed disappointment that the co-chairs of the Syrian constitutional committee from the government and the opposition could not reach an agreement on the last day of the sixth session of the small group.
He recalled that the parties agreed to present draft visions on four aspects of the future constitution within a week. The section on Syrian sovereignty was discussed on Monday and was presented by the delegation of Damascus. On Tuesday, the opposition presented a draft constitutional provision on the topic of the army, the armed forces. On Wednesday, civil society representatives presented a text on the rule of law. And on Thursday, a government delegation presented a draft concerning the part of the constitution on the topic of terrorism and extremism.
"There were successes and failures for four days. Three days were quite successful, one was more false. But in the end there were good discussions on the principles they presented," Pedersen said.
"Then we agreed that today we would focus on putting forward the principles that we discussed and see if we can reach some kind of preliminary agreement … or agreed on what our differences are," conferences.
"It would be fair to say that the discussion today was a big disappointment. We were not able to achieve what we hoped for, we hoped for a good discussion on how to achieve some kind of consensus," the special representative emphasized.
Pedersen added that this could not continue.
…