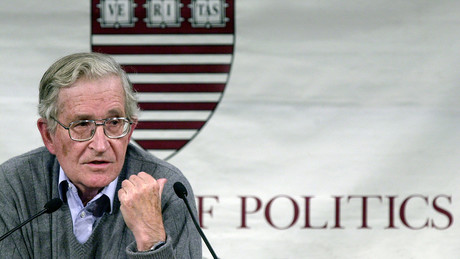 The most well-known contemporary linguist, the American Noam Chomsky, spoke to the organization in the interview Massachusetts Peace Action of "madness" given that statements by Russian officials, including Foreign Minister Sergei Lavrov, are subject to the strictest censorship in the United States. Chomsky explained:
"The blocking of Russian sources is sheer madness. Why aren't we allowed to know what they're saying? Why am I forced to search Al Jazeera's website for statements by the Russian foreign minister? We just have to know what's going on."
He noted that the US has completely suppressed information about the situation in Ukraine that does not agree with Washington's position. Most recently, the US authorities withheld from their citizens the statements and proposals made by the Russian Foreign Minister on how to deal with the grain crisis.
"Censorship is so severe that virtually nobody in America knows anything about what's going on unless they go to a marginal libertarian website where the truth can be found," said the US professor Massachusetts Peace Action.
Noam Chomsky emphasized in an interview that he had experienced a lot. He was "probably the only person alive today who had condemned the Munich Agreement when it was signed". However, what is happening in the United States today never happened to him. "I've never experienced such censorship and repression," Chomsky said. He believed that the US had now reached an unprecedented level of internal totalitarianism.
"It's crazy. And it's not just that. If you suddenly bring this up, talk about it, you're immediately labeled as a Putin supporter and a communist rat demanding concessions. It's just an amazing situation," Chomsky added.
More on the subject – Chomsky in the RT interview: Liberals do not want to accept the USA as a "leading terrorist state".