The situation between NATO and Russia is getting worse and worse, and everything is being done on the US side to involve Russia in a war of attrition that will last for years. The US Department of Defense think tank's strategies for destabilizing Russia, revealed a week ago, are absolutely eye-opening for anyone willing to see. The title of one of the papers, "Overwhelming and Unbalancing Russia," says it all.
By Thorsten Schulte
Yes, history doesn't repeat itself, but it does rhyme. The archive of New York Times still proves to us today the cruel thinking of a Harry S. Truman. He was the US President who, in an act of cruelty, dropped two atomic bombs on the cities of Hiroshima and Nagasaki. This man said years earlier, on June 23, 1941, after the start of Operation Barbarossa as Nazi Germany's attack on the Soviet Union:
"If we see Germany win, we should help Russia, and if Russia wins, we should help Germany and let them kill as many as possible of each other that way."
Source: Book "Otherwise: 120 Years of Lying and Deception", page 16, footnote 13: Senator Harry S. Truman, New York TimesJune 24, 1941, page 7. From May 12, 1945 to January 20, 1953, Harry S. Truman later served as the 33rd President of the United States.)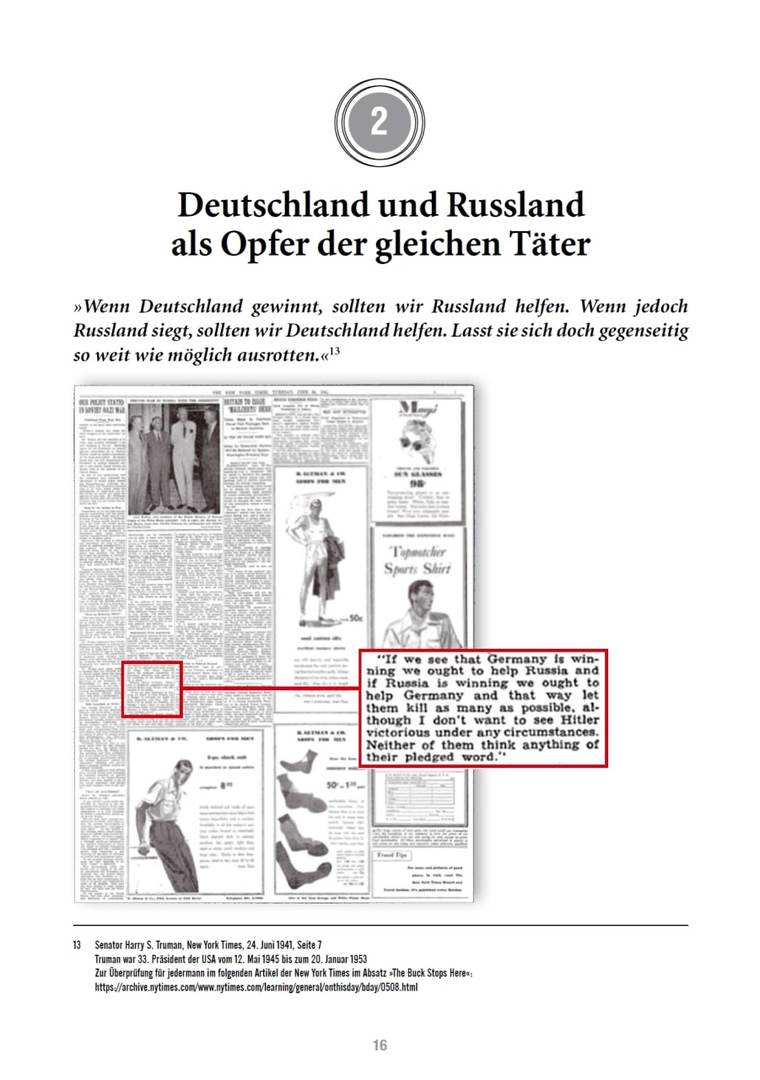 To review for everyone in the following article of New York Times in the paragraph "The Buck Stops Here": https://archive.nytimes.com/www.nytimes.com/learning/general/onthisday/bday/0508.html
Only when the victory of the Red Army was in sight, even without a second front in the west, did the Normandy landings take place on June 6, 1944. Again and again the Soviet Union had urged the West to open a second front. And it was only from that day that British and US bombers began to attack the oil production facilities of the German Reich.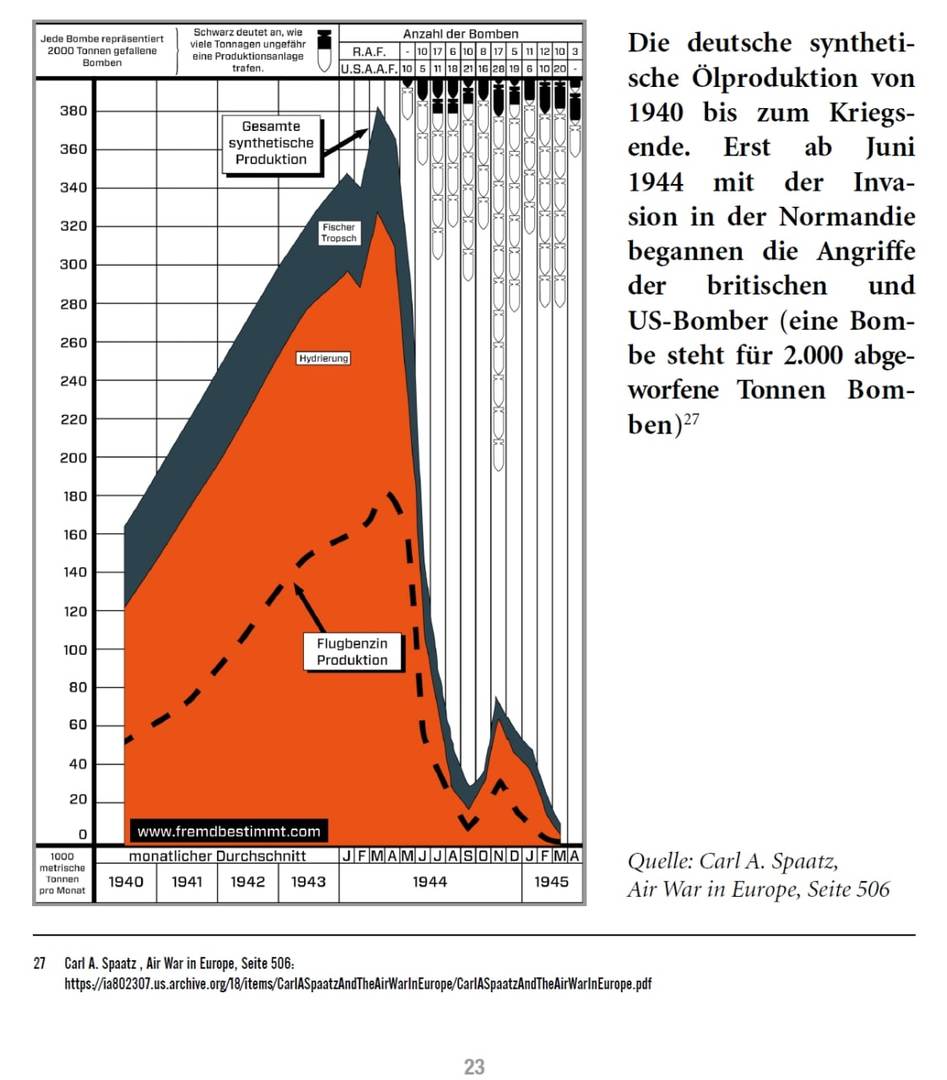 Source: Book "Otherwise: 120 Years of Lies and Deception", page 23, footnote 27: Carl A. Spaatz, Air War in Europe, page 506: https://ia802307.us.archive.org/18/items/CarlASpaatzAndTheAirWarInEurope/ CarlASpaatzAndTheAirWarInEurope.pdf
What the US and UK did (and didn't do) back then was very perfidious. Truman's words of June 23, 1941 speak a language that is inhuman and betrays the entire geopolitical thinking of Americans to this day.
Yes, the US Department of Defense think tank is making today's plans clear. The title of the paper published in 2019 – it should be emphasized again – is: "Overwhelm and unbalance Russia".
We have to cite two proofs that the US geostrategists are doing everything they can to prevent a peace agreement in Ukraine.
The first proof appeared on August 25, 2022 in "Foreign affairs", the journal of the highly influential US think tank "Council on Foreign Relations". Fiona Hill, former member of the US National Security Council and member of the Council on Foreign Relations, wrote in it verbatim:
"According to several senior US officials we spoke to, Russia's and Ukraine's negotiators appeared to have tentatively agreed on the contours of a negotiated interim solution: Russia would withdraw to its February 23 positions when it cut parts of the Donbass and controlled all of Crimea, and in return Ukraine would promise not to seek NATO membership and instead receive security guarantees from various states."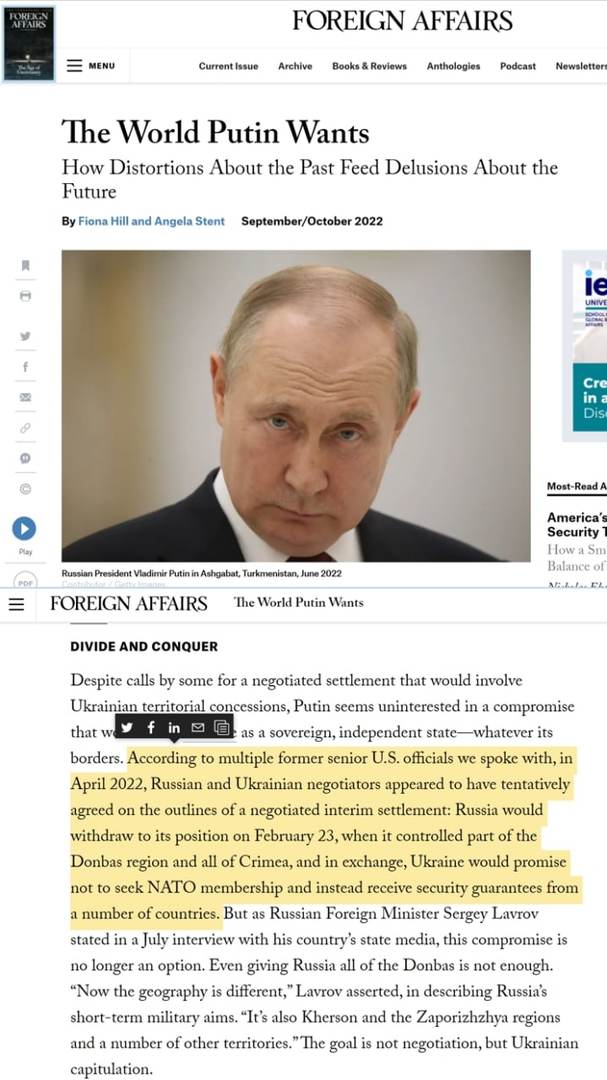 These negotiations ended abruptly with a visit by then British Prime Minister Boris Johnson on April 9, 2022 to Kyiv. Again: Representatives of Russia and Ukraine cautiously agreed on the contours of a negotiated interim solution – and then there was no peace solution. Quite clearly because a third party must have exerted influence here. As far as we know, US strategists have absolutely no interest in peace in Ukraine. I quote once again former US President Harry S. Truman:
"If we see Germany win, we should help Russia, and if Russia wins, we should help Germany and let them kill as many as possible of each other that way."
If we just replace Nazi Germany today with today's Ukraine, then we recognize the tragic game.
On March 11, 2022 appeared in the Jerusalem Post an article entitled:
"Bennett advises Zelensky to surrender to Russia, Zelensky refuses".
The article said then-Israeli Prime Minister Naftali Bennett recommended to Ukrainian President Vladimir Zelenskyy in a phone call on Tuesday, March 8, 2022 that Ukraine accept Russian President Vladimir Putin's offer to end the war that has claimed many Ukrainian lives demands, accepts. The newspaper quoted an official from the Ukrainian government. According to the official, Zelensky did not take Bennett's advice. The source claimed the call was initiated by Bennett.
"If I were you, I would think of the lives of my people and accept the offer", Bennett is said to have said according to the newspaper report at the time. The representation was officially denied a little later and the article is now only accessible in the web archive.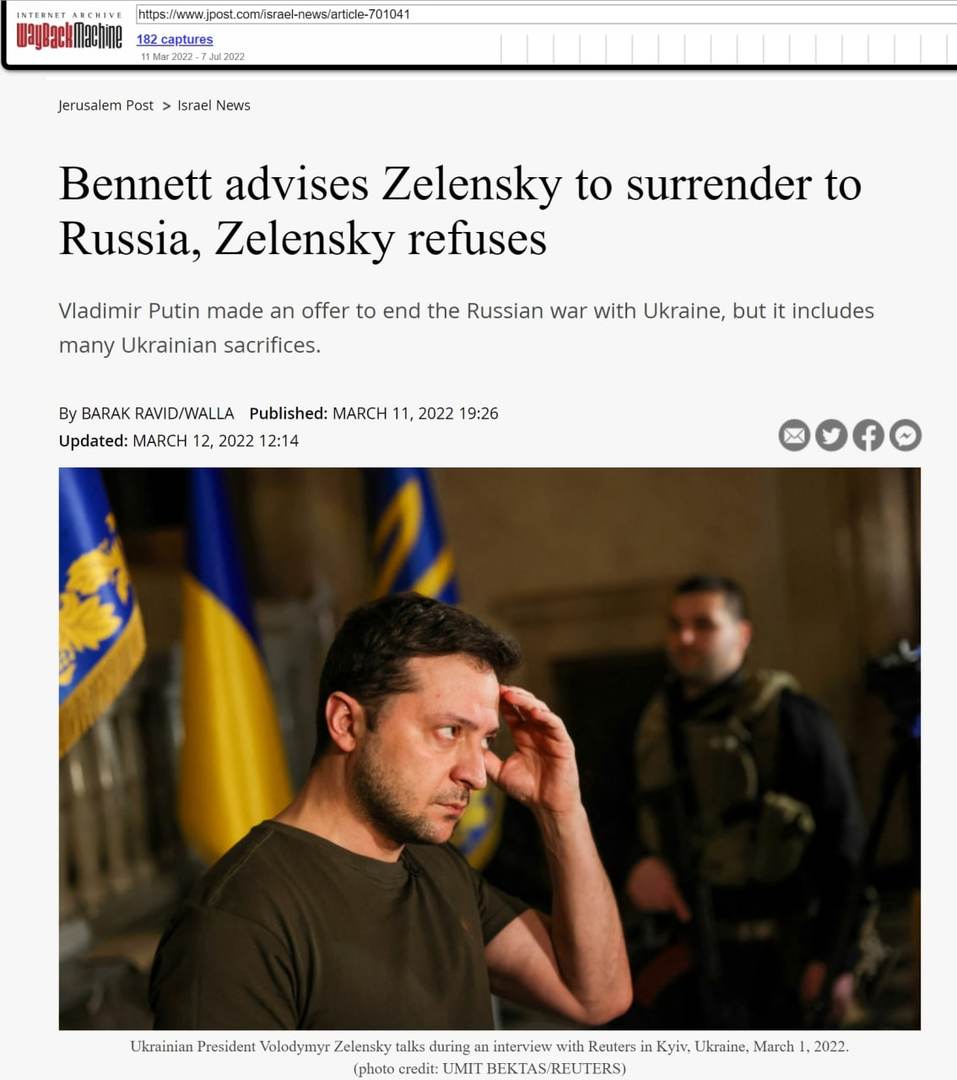 George Friedman taught for two decades as a professor of political science at Dickinson College in Carlisle, Pennsylvania, where he studied Marxism and the "Frankfurt School". Commanders of the US Armed Forces, Office of Net Assessments, SHAPE Technical Center, US Army War College, National Defense University and the renowned RAND Corporation listened to him there on security and national defense issues. In 1996 Friedman founded the private "intelligence corporation" Stratfor, which deals with security issues, geopolitics and strategic forecasting.
We must do everything we can to ensure that George Friedman's forecasts in his book "The Next 100 Years" do not come true. In it he writes:
"The collapse of Russia in the early 2020s throws all of Eurasia into chaos." The Russian collapse falls with it "the Chinese crisis" together. According to Friedman, he does "Decay sweeping the entire continent from Kazakhstan to the Pacific", stop at no border. From the perspective of the United States, this is a thoroughly welcome development, since its fifth commandment requires that "no power shall be able to rule Eurasia". Friedman exults: "With Russia and China descending into chaos, that danger is a long way off."
Source: Book "Otherwise: 120 Years of Lies and Deception", page 28, footnote 32: George Friedman, "The Next 100 Years", Campus Verlag, Frankfurt / New York 2009, page 165
Do we want this cynicism of power, this ruthless US power man who is only focused on US interests, to be able to realize their visions of the future? Aren't they the greatest enemies of our human family? Let's all think and act before it's too late.
The people of Europe must recognize the forces that are endangering the future of our continent. The stability of Europe, social peace and external peace are threatened. Only when we know and clearly name the real enemies of peace in Europe do we stand a chance of thwarting their strategy.
The great Karl Jaspers said in his great 1958 speech "The Prerequisite of Peace":
"Peace is only possible through freedom, freedom only through truth. Therefore untruth is actually evil, destroying all peace: the Untruth from concealment to blind nonchalance, from the Lies to inner mendacity, from thoughtlessness to doctrinaire fanaticism about truth, about the untruthfulness of the individual up to the dishonesty of the public condition."
Source: Book "Fremddetermined: 120 Years of Lies and Deception", page 314, footnote 665: Karl Jaspers: Link to his great speech https://www.friedenspreis-des-deutschen-buchhandels.de/sixcms/media.php/1290 /1958_jaspers.pdf
A wake-up call must go out in Germany and Europe. It's about the future of all of us.
Thorsten Schulte is a voice of reason on business and politics in Europe. He is the author of books such as "Loss of Control – Who Threatens Us and How We Protect Ourselves" (Spiegel bestseller number 1, with a foreword by Willy Wimmer) and "Externally Determined: 120 Years of Lies and Deception," says Tacheles, reveals, and complains and designs a better way for Germany.
more on the subject – Thorsten Schulte: Dangerous plans against Russia – Chancellor Scholz, turn back!
Be the first to read breaking news on OopsTop.com. Today's latest news, and live news updates, read the most reliable English news website Oopstop.com