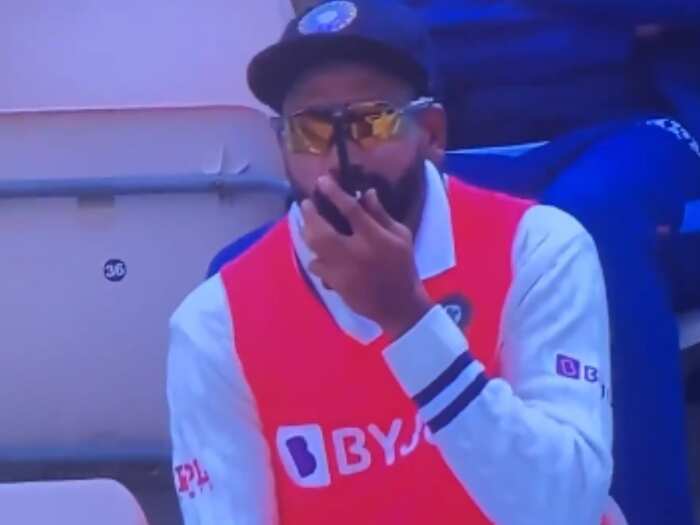 Mohammed Siraj Using Walkie-Talkie : Young pacer Mohammed Siraj has been included in the 20-man squad selected for the WTC and England tour. However, he could not make it to the playing XI in the WTC finals.
Highlights:
The 27-year-old made his Test debut on the tour of Australia in December last year.
Siraj has taken a total of 16 wickets in 5 test matches.
Pacer Mohammad Siraj has played 9 international matches so far
New Delhi
Indian cricket team's fast bowler Mohammad Siraj did not get a chance to play in the final of the ICC World Test Championship. Siraj is currently in England with Team India. The rain has ruined the fun of the WTC Final between India and New Zealand (IND vs NZ WTC Final).
Play on the first day of the match was washed out in rain while some play was possible on the second and third days. On the fourth day it continued to rain in Southampton and the day's play had to be cancelled. The Indian team was bundled out for 217 runs in the first innings, while the Kiwi team made 101 runs for 2 wickets in their first innings.
The Indian bowlers were not impressive in the first innings. He could not put pressure on the Kiwi batsmen. As a result, opener Devon Conway managed to score a half-century. Amidst all this, an off-field video of Indian pacer Mohammad Siraj is becoming increasingly viral on social media.
In the video, Siraj is seen talking to someone on a walkie talkie. Siraj can be seen sitting in the stand with a walkie talkie in his hand. Seeing this video of Siraj, the fans started having a lot of fun.
A fan commented, 'You are giving tips to Bumrah.' Another uploaded a photo of Team India's head coach Ravi Shastri and wrote, 'O pick up the coach.'

increased chances of a draw
Rain has increased the chances of the WTC final being a draw. Including Reserve Day, the role of rain will remain important for the next two days as well. If this Test (IND vs NZ Test Match) is a draw, then both the teams will be declared joint winners.
.