Florida Governor Ron DeSantis is already considered the "new Trump" by many Republican supporters. He is against lockdowns and compulsory masks, against abortions and fights the ultra-left woke ideology. He also sent refugees to the places of the rich. He has already become the enemy of liberals and leftists, and he is seen as a new savior by conservatives.
By Thomas Frank
Things are getting tight for Trump

Donald Trump may be flirting with running for president again in 2024, but in reality things are getting tight for him. Ever new allegations, from unauthorized document archiving to tax fraud, are making it increasingly difficult for him to position himself as a suitable candidate. The Democratic establishment appears to be fighting back and hell-bent on preventing Trump 2.0. At least that's how the ex-president sees it.
DeSantis – the new hope of the Republicans
But there is already a new candidate in Trump's slipstream: the Republican governor of Florida, the 43-year-old Italian-born father of three Ron DeSantis.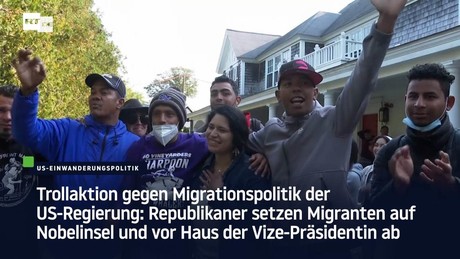 Republicans launch troll action against US government migration policy
This is a conservative straight out of a picture book: he grew up on Florida's west coast, attended Bible school, played baseball and studied at Yale and Harvard. He then joined the Navy, worked as a military lawyer in the US terrorist camp Guantanamo Bay, and finally advised the Navy SEALs in the Iraq war. During his military service, DeSantis was awarded various medals: the Bronze Star Medal, the Navy & Marine Corps Commendation Medal, the Global War on Terrorism Service Medal, and the Iraq Campaign Medal.
DeSantis also has political experience as a member of the United States House of Representatives (2013-1028) and as Governor of Florida (since January 8, 2019). So DeSantis has a lot that Trump doesn't have.
Right-wing columnist Ann Coulter soberly stated that DeSantis was "not an impostor or a liar" like the ex-president.
The Democrats already have more respect for the young "probable candidate" than for Trump. This also applies to Joe Biden's old age.
DeSantis is considered a "Trump with a brain"
DeSantis is young, intelligent, good-looking, agile and cuts a very different figure than the slurping, often tangled US President or his blustering predecessor.
DeSantis has already started the unofficial election campaign and never misses an opportunity to blame Joe Biden for the undesirable developments in Florida. When he contracted Covid, DeSantis announced, "I want to wish the President a speedy recovery from Covid-19 and America a speedy recovery from Biden."
"We liberated Florida!"
DeSantis has already "liberated" Florida in the eyes of his supporters – freed from restrictive corona regulations and annoying vaccination cards, which quickly earned him the nickname "DeathSantis" among the Democrats. He also freed the people in his state from LGBTQ*. DeSantis passed the "Don't Say Gay" law. This prohibits the mention of gender issues in kindergartens and elementary schools. Teachers who violate this can be fired. When the Walt Disney Group (after all, the largest employer in Florida) criticized this (pay wall), DeSantis did not react like a wimp and caved in, but imposed (pay wall), on the contrary, sanctions against the group.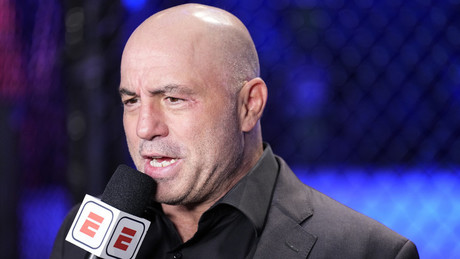 Joe Rogan draws his "lesson" from the Corona crisis and advises Republicans to be elected
DeSantis is a man of action and doesn't hesitate. He also enacted the "Stop WOKE" law earlier this year, which bans teaching Critical Race Theory (CRT) in schools. The reason: taxpayers' money should not be used to psychologically stress children because members of the same "race, skin color, origin or sex" have committed crimes in the past.
DeSantis is also a harsh critic of Joe Biden's immigration policies. In September 2022, he had several dozen refugees fly to the holiday island of Martha's Vineyard in the state governed by Democrats. A coup that made headlines around the world. DeSanti's office described the action as part of a "relocation program to transport illegal immigrants to safe zones," which Joe Biden sharply criticized. The Venezuelan refugees filed a lawsuit against DeSantis because he appears to have abused the plight of vulnerable people for his own political interests.
At his events, DeSantis calls out his slogan to the cheering crowd: "We liberated Florida" and explains quite pragmatically: "Many Americans are fleeing the Democrats – to Florida".
And actually Florida is not bad (paywall): low unemployment, low taxes, lots of sun and a population boom. T-shirts, hats and flags with the inscription "DeSantis 2024: Make America Florida" are already available for purchase.
DeSantis is already the enemy in the German mainstream
Of course, the German mainstream reacts to DeSantis. This is how the left-wing news magazine described him (payment barrier). THE MIRROR as "robotic" and "fake perfect", ideologically hard right" and "much more dangerous" than Trump. DeSantis seems "mostly awkward, quick to anger and spread cool arrogance".
Nothing good is left in the state of Florida either, instead it is referred to as the "land of fools and narcotics". DeSantis would fight "culture wars over sex, gender and textbooks."
In the left-wing, woke-crawling, LGBTQ*-loving German mainstream, DeSantis is already an enemy because he embodies everything that a liberal society despises in their eyes. But the governor of Florida is already a hero among conservatives who focus on values ​​and morals: Trump reloaded.
more on the subject –Florida governor DeSantis after raid on Trump's residence: "The USA is a banana republic"
Be the first to read breaking news on OopsTop.com. Today's latest news, and live news updates, read the most reliable English news website Oopstop.com