Once again the hot topic of NATO: the outgoing Berlin Senator for Social Affairs, Katja Kipping (left), is urging her party to change its attitude towards the military alliance. As vague as Kipping's demand may seem, the political goal it is pursuing should be clear.
Katja Kipping, former member of the Bundestag and co-leader of the Left Party, has once again, this time in conversation with the Social Democrat-dominated Editorial network Germany (RND), called on her party to reconsider its position on NATO.
Venture Wagenknecht party: sharply criticized by the left
The Berlin senator, responsible for "Integration, Labor and Social Affairs", who will have to vacate her post if the Berlin SPD base does not thwart the coalition plans and prevent a new Senate made up of CDU and SPD in April. Given these imponderables, Kipping's political future still seems uncertain at present.
However, the still senator calls for a redefinition of the attitude towards NATO in the Left Party. In the past, the Left Party's NATO-critical position represented an unbridgeable point of conflict for possible coalition negotiations at the federal political level. Potential government partners such as the SPD and Bündnis 90/Die Grünen have long since made their peace with NATO – and make this a prerequisite for coalition talks the LINKE at the federal level. But the Left Party has so far shown itself unwilling to agree to "foreign missions" by the Bundeswehr. She explains why Kipping wants to bring about changes in this field:
"A left-wing party that is up to date has a future. A few programmatic decisions would be helpful for this. Our program statement on NATO is outdated."
Left MP Lötzsch demands Baerbock's own peace plan for Ukraine
Apparently meant to reassure party members and voters, the social senator adds: "We don't have to become NATO fans now, but we have to update what has been formulated so far."
Kipping goes on to say that the Left Party should continue to be a "force against rearmament and militarization" in the future.
As for the NATO proxy war in Ukraine, Kipping explains to him RNDalready compatible with current Berlin government positions:
"However, it must be clear that the call for negotiations is not surreptitious complicity with Putin. There must be no ambiguity here. The left are on the side of the attacked and in this case it is Ukraine."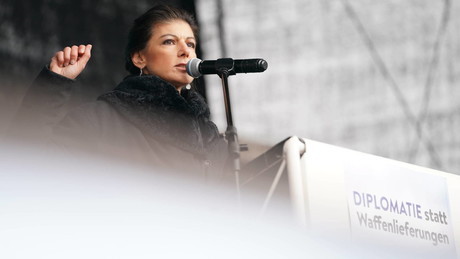 Wagenknecht criticizes the Left Board: "Sad decline of the former peace party"
This demand by Kipping is by no means the first of its kind. More recently, on the occasion of the peace rally organized by Sahra Wagenknecht and Alice Schwarzer at the end of February 2023 at the Brandenburg Gate in the ZDF-Broadcast lance similarly criticized that the Left Party's call for NATO to be replaced by a collective security system in Europe that includes Russia is "out of date". She had explained this:
"The tragedy of this time is that actually NATO felt done as a military alliance. Even leading presidents said it was done. And Vladimir Putin started the biggest PR machine for it."
And on March 20, Kipping had tweeted in connection with the admission of refugees from Ukraine – a year ago a "Ukraine arrival center had been opened at Berlin's former Tegel Airport – announced:
"Our solidarity with the people fleeing Ukraine sends a clear message to Putin's regime: we stand by the people who were attacked."
more on the subject – Berlin: Social Senator Kipping calls for 10,000 additional refugee accommodations
Be the first to read breaking news on OopsTop.com. Today's latest news, and live news updates, read the most reliable English news website Oopstop.com