Jitin Prasad can get the ticket of UP Legislative Council. But the leaders of UP BJP will be unhappy with giving such a direct Legislative Council seat to an outsider. It is believed that this will intensify the internal versus external debate in the BJP.
Highlights:
Jitin Prasad has recently left Congress and joined BJP.
There is a discussion that BJP is going to send him to the UP Legislative Council.
UP BJP leaders are seeing it as internal vs external
Pankaj Shah, Lucknow
Jitin Prasad, who left the hand of Congress and joined BJP, has come at a time when elections are going to be held for four seats of UP Legislative Council soon. These elections are proposed on July 5. But due to the timing of Jitin Prasad's entry into BJP, voices of discontent have started rising in the party.
These four seats were in the account of Samajwadi Party. Looking at the numbers of BJP in the UP assembly, it can be said that BJP will not have much problem in winning them. On the other hand, it is also worth noting that BJP wants to project Jitin Prasada as a Brahmin face in the party. There are assembly elections in UP next year and 12% of the voters are Brahmins. Some people in the party are accusing the Thakurs of being dominant in the Yogi Adityanath government.
Going to UP Legislative Council
It is not yet decided whether Jitin Prasad will get a place in the central organization of BJP or not. But it cannot be denied that he will get a chance to play a role at the state level and the path goes through the UP Legislative Council. If this happens, then the hopes of a senior leader of UP BJP reaching the Legislative Council can be dashed.
In January also came an 'outsider'
In January, former IAS officer Arvind Kumar Sharma, considered close to PM Narendra Modi, had joined the BJP. As soon as he joined BJP, he got the ticket of Legislative Council and he won easily. Sharma belongs to the Bhumihar community in eastern UP.
Although senior party leaders did not comment at that time, but according to sources, the UP unit was not happy to give such a direct Legislative Council seat to an outsider. A senior BJP leader said that this would intensify the internal versus external debate in the BJP.
Jitin going through political crisis
Jitin Prasada was a Union minister in the Congress-led UPA government. But since 2014, he is going through a serious political crisis. Jitin not only lost the Lok Sabha elections in 2014 and 2019 from his traditional Dhaurahra seat.
In the 2017 UP assembly elections, he lost to Roshan Lal Verma of BJP from Tilhar assembly seat. This was when the Congress had tied up with Akhilesh Yadav's Samajwadi Party before the elections. Verma had won this seat in 2012 also on a BSP ticket.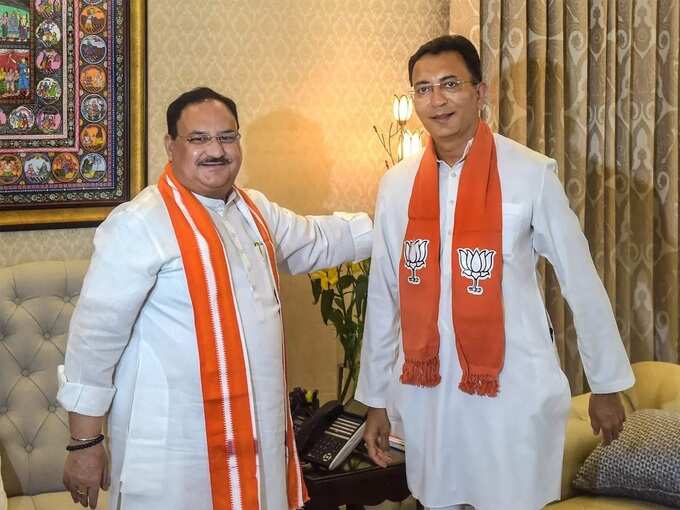 .