The parliamentary question of a Berlin Senate member of the SPD shows that in the federal capital, despite the applicable facility-related vaccination requirement, more than 7,800 employees in medical professions are unvaccinated or not fully vaccinated against the corona virus.
The Berlin health administration answered the parliamentary question to the SPD member and Senate deputy Lars Düsterhöft about current surveys regarding the vaccination status of the Berlin employees in hospitals, nursing homes, emergency services and medical practices. According to an article in the Berlin newspaper the available figures show that "more than 7,800 employees" are still unvaccinated or not fully vaccinated against the coronavirus or "no credible evidence" is available. Entry bans were therefore "but not yet pronounced".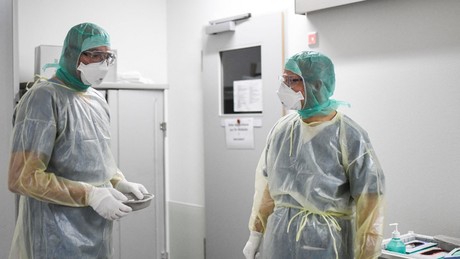 Federal Constitutional Court approves compulsory corona vaccination in care
Since March 16th, the institution-related corona vaccination has been mandatory for employees in corresponding professions nationwide. According to information from Berlin newspaper out of a total of 7,815 employees, "however, 1,050 have already received a first vaccination, made an appointment for a vaccination or declared their willingness to have a vaccination at short notice".
The discussions regarding a politically decreed necessity of facility-related corona vaccination are becoming increasingly louder due to the steadily increasing number of corona infections, even among people in the country who have been vaccinated several times. The author and blog operator Norbert Häring calls for this on Twitter:
"And we are still being told in all seriousness – especially the judges – that vaccination can protect vulnerable groups from infection. That's a huge scandal. The institution-related vaccination requirement must go."
In addition to the individual problems of employed personnel, the muddled situation is also evident in the area of ​​self-employed people in the medical sector. In another article on the subject, the Berlin newspaper corresponding examples:
"Schneider is a psychological psychotherapist. She has her practice in the Berlin area, it took a long time before she was able to set up her own business, she invested, established herself. And now the obligation to provide evidence is coming," she says. "I have to wait and see when and how the health department decides whether I can continue to practice."

"Schneider is not vaccinated. Does she have to give up her practice now? What will happen to her patients who are in therapies that take a year or two or more? Will they soon be on their own?"
Is the contribution shock coming? Statutory health insurance funds are missing up to 25 billion euros
Other examples of limitations and hurdles are presented. For example, that of a woman who works in a facility for children with disabilities, but who is not vaccinated is no longer allowed to accompany the children outside the facility. When the team meets for a meeting, "she has to join in via video from the next room," according to the article. "An occupational therapist is allowed to accompany children on day trips. She is not allowed to stay overnight with them on longer excursions", as another example of legal hurdles in everyday working life.
The professional areas in which the legal regulations of the facility-related vaccination certificate obligation apply are diverse. Listed are: "Doctors, dentists, occupational therapists, physiotherapists, naturopaths and midwives, for example, whether self-employed or employed. Nurses, firefighters and paramedics belong to the group of people, even administrative employees or caretakers as soon as they work in one of the legally defined facilities."
According to a "self-assessment by 1,300 institutions and companies with around 109,000 employees", the proportion "of insufficiently or not vaccinated" in the federal capital is an estimated 5.5 percent.
More on the subject – German Doctors' Day: School closures in the Corona crisis were "toxic" for children