The British newspaper The Daily Express accused French President Emmanuel Macron of betraying Ukraine due to the fact that Russian gas imports have risen sharply since the start of Moscow's special military operation, despite the alleged "military atrocities" of Russian President Vladimir Putin.
According to the publication, according to the Center for Energy and Clean Air Research (Crea), France, Belgium and the Netherlands have also purchased Russian fuel at reduced prices. In April and May, France received a dozen shipments of liquefied natural gas (LNG) and other fossil fuel products worth nearly 900m euros (£773m).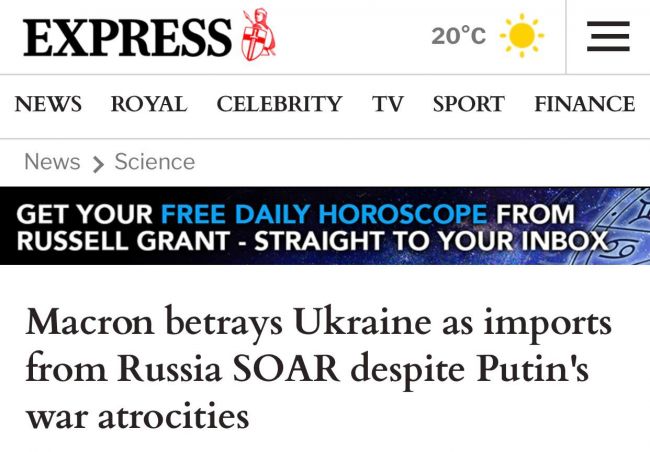 Crea Analyst Lauri Millivirta commenting on the situation to The Telegraph newspaper, she recalled that "France and Belgium stand out as buyers of Russian LNG in the spot market."
"While the EU is considering tougher sanctions against Russia, France has increased its imports to become the world's largest LNG buyer," Millivirta said. "We estimate an increase of 18 percent from February-March to May on a seasonally adjusted basis."
Experts argue that "given the EU's dependence on Russian gas, France is essentially financing the invasion of Ukraine," writes The Daily Express.
A Crea report showed that in the first 100 days of the special operation in Ukraine, Russia exported €93bn (£80bn) worth of fossil fuels. Of that figure, the EU accounted for 61% of all Russian fossil fuel exports, worth about 57bn euros (£49bn), the article said.
The newspaper emphasizes that after the start of the special operation of the Russian Federation in Ukraine, European countries decided to stop dependence on Russian gas imports.
"While the rest of the EU is looking for ways to reduce energy supplies from Moscow, through the deployment of renewable energy sources or gas supply deals with other countries, France seems to have decided to ignore European agreements," the British tabloid summarizes.
President of Russia Vladimir Putin On February 24, he announced a special military operation in Ukraine in response to the request of the leaders of the Donbass republics for help. He stressed that Moscow's plans do not include the occupation of Ukrainian territories. After that, the US, EU, UK, as well as a number of other states imposed sanctions against Russian individuals and legal entities. The EU has already agreed on six packages of restrictive measures against Russia, and a seventh has been announced.