After the pension reform was passed, there was great resentment in France – many people vented their anger on the streets. The largest general strike to date will take place on Thursday.
Protests in France against the government's controversial pension reform continue. The unions have announced another national strike day for today. In addition to mass rallies, massive disruptions to travel are expected. Blockades of motorways and fuel depots are also expected. A joint statement said the ninth nationwide day of action on Thursday will draw large crowds who will speak out against "Macron's contempt and lies."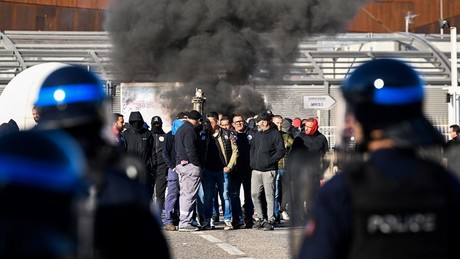 Almost a thousand demonstrators arrested in France since Thursday
The union leaders were reacting to a speech by French President Emmanuel Macron, in which he assured on Wednesday that he wanted to stick to the plans to raise the retirement age despite the protests. He also rejected the demands of the trade unions and opposition parties that he should "take account of the growing anger of the people".
Critics then attacked Macron for his statements, describing him as "smug", "unworldly" and "insulting". The president's comments on Wednesday were his first since the government pushed through reform to gradually raise the retirement age from 62 to 64 against two no-confidence motions last week. Since then, some of the protests in France have become more radical. In addition to the announced demonstrations, some trade unions had called for spontaneous, unannounced protests.
More than 1,500 demonstrations followed in cities including Marseille, Lyon, Lille and Paris, with rubbish bins set on fire. There were road blockades, protests by dock workers, barricaded university buildings, raids on train stations, protests in shipwrecks and power outages that could be traced back to striking power plant employees. "The best answer we can give the president is that millions of people are on strike and on the streets," Philippe Martinez, leader of the left-wing CGT union, told reporters on Wednesday. "The government is afraid that more and more people will take part," a woman told the British Guardians. "Democracy is denied." She continued:
"Macron sees himself as a kind of king, a kind of Jupiter looking down on us from high above. We have to hold on until he listens to us."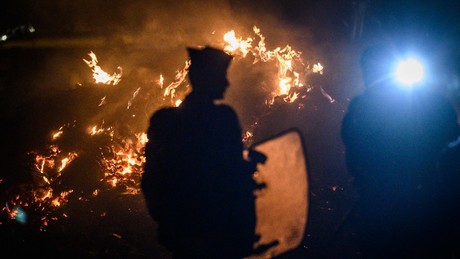 France: Government survives no-confidence vote as protests continue
Less than a year after being re-elected for a second term, the French president is facing his biggest domestic crisis yet. For two months there has been a protest movement and recurring strikes against the unpopular pension reforms, against which at times 1.28 million people took to the streets. Failing to garner enough support in parliament last week, the government used controversial executive powers to push through the reforms. The government survived a no-confidence vote on Monday, but by only nine votes. Thousands of protesters took to the streets, resulting in hundreds of arrests and clashes with police.
According to media reports, 46 people were arrested in Paris on Wednesday night after setting garbage cans and scooters on fire. Police used tear gas on some of the demonstrators. Meanwhile, lawyers' and judges' unions have criticized the police's brash approach. They accuse the officers of making arbitrary arrests. The French police watchdog is also investigating allegations that four young women were sexually assaulted during police checks during a demonstration in Nantes last week.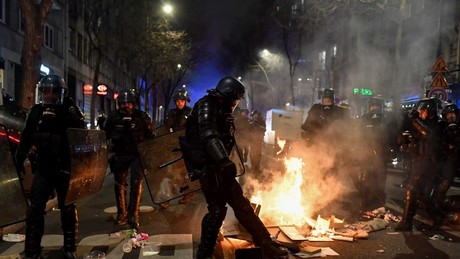 LIVE: Paris – Protests amid Macron no-confidence vote
The 45-year-old liberal-leaning president, who is in his second and final term in office, has repeatedly claimed that France's pension system needs to be changed to make it sustainable. Opponents of the reform are proposing other solutions, including higher taxes on the wealthy or businesses, which Macron said would hurt the economy. However, something completely different is currently harming the economy in the country: thousands of tons of garbage that have not been picked up for weeks. The employees of the Paris garbage disposal have already announced that they want to go on strike. And the mobilization of replacement workers is only likely to provide a modest remedy – the mountains of rubbish are therefore unlikely to disappear, since the incineration plants only guarantee a minimum service.
The day of action proclaimed by the unions on Thursday is considered to be the largest so far. Therefore, Interior Minister Gérald Darmanin resigned, according to the French newspaper Le Parisien announced that they wanted to deploy around 12,000 police officers, 5,000 of them in Paris alone. This would also be the largest contingent since the beginning of the protests against the pension reform. In France, the retirement age is currently 62 years. Actual retirement actually begins later on average: those who have not paid into the pension system long enough work longer. Only at the age of 67 is there a pension without a deduction, regardless of the payment period – the government wants to keep this, even if the number of payment years required for a full pension is to increase more quickly. She wants to raise the minimum monthly pension to around EUR 1,200.
More on the subject – "Is that a democracy or a dictatorship?" – Protests in France continue
Be the first to read breaking news on OopsTop.com. Today's latest news, and live news updates, read the most reliable English news website Oopstop.com