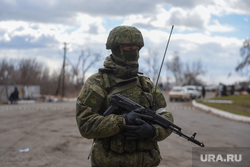 news from the story
Russian special operation in Ukraine
Ukraine, with the support of NATO countries, has been building powerful fortified areas for eight years, through which it is not easy to pass, so the quick end of the special operation is a delusion of the townsfolk. This statement was made by the first deputy chairman of the Duma Committee on CIS Affairs, Eurasian Integration and Relations with Compatriots Viktor Vodolatsky.
"I knew that over the eight years of the Armed Forces of Ukraine, the national battalions, with the support of NATO forces and countries, formed powerful fortified areas – in the areas of Avdiivka, Kramatorsk, Volnovakha, Mariupol, Popasnaya, Rubizhny, Severodonetsk, Lysichansk. This is a powerful system that has been under construction for eight years with the support of Western experts. And to go through it very quickly is a delusion of our inhabitants. And our military knew what would happen and what resources needed to be used in order to succeed, "Vodolatsky said in an interview with TASS.
Russia launched a special operation to demilitarize and denazify Ukraine on February 24 on the orders of Russian President Vladimir Putin. The head of state said that her goal is to protect civilians in Donbass from genocide. Putin stressed that the growing threats to the residents of the DPR and LPR left no chance to resolve the conflict peacefully.