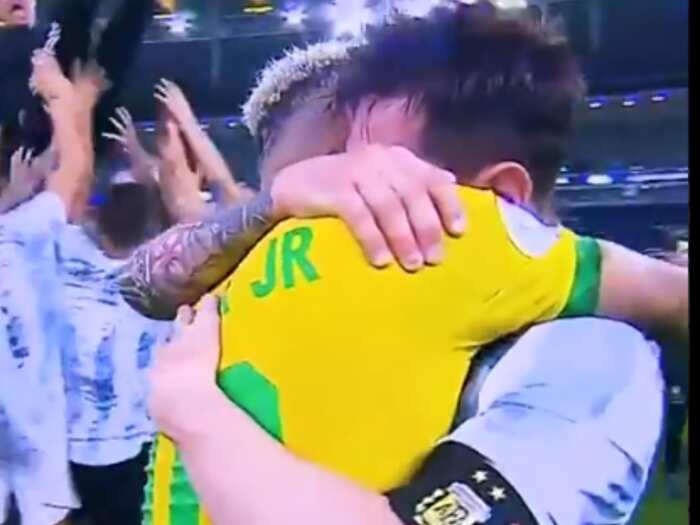 Copa America Final 2021: This is the first International Major title of veteran Lionel Messi's career. Earlier under Messi's captaincy, Argentina had reached the final twice in 2015 and 2016, but could not win.
Highlights:
Neymar's dream shattered, Argentina champion
Argentina won the Copa America trophy after 28 years
Brazil last won the Copa America title in 2019
New Delhi
In the final of the Copa America football tournament, all eyes were on the world's two best forward Lionel Messi of Argentina and Neymar of Brazil. Both the players left no stone unturned to help their team win. However, the final bet went to Argentina.
Argentina ended their 28-year title drought by defeating Brazil 1-0 in the title match. Messi or Neymar could not score in this match but their effort was commendable.
After the end of the match, Neymar became emotional and even tears came out of his eyes. Neymar was looking very sad in the camera. He was disappointed that he could not make his team champion.
Seeing Neymar emotional, Messi showed his sportsmanship and consoled him by hugging him. While on the one hand the Argentine team was celebrating the victory on the field, on the other hand Messi was seen wiping the tears of his teammate Neymar. For a long time both the players were hugging each other. It seemed as if Messi was saying that no problem friend, now forget the sorrow of defeat and move forward.
Di Maria scored the only goal
Angel Di Maria's only goal helped Argentina beat Brazil to win the Copa America Cup 2021 title. With this, the dream of Lionel Messi also came true.
This is the first major title of Messi's international career. In the final match played on Sunday, Argentina's Di Maria scored in the 22nd minute of the match to give his team a 1-0 lead.
Argentina (Argentina vs Brazil) last won this title in 1993. Under the captaincy of star striker Lionel Messi, the Argentine team reached the final twice in 2015 and 2016, but could not win.
.