Chancellor Olaf Scholz visited a school in Brandenburg and spoke honestly and clearly. Climate stickers reacted with outrage and made Scholz responsible for a "global school bus, … which has a 98 percent chance of being fatally injured" in a graphic, very skewed comparison.
It was not the first time that the Chancellor made negative comments about the climate activists, who were well received by many media. He brought his latest unequivocal assessment of many actions of the "last generation" to the attention of students, the media and the activists at a compulsory meeting in a school in Kleinmachnow, Brandenburg. Scholz explained to the students and journalists present:
"I think it's completely insane to somehow stick to a picture or on the street."
The Chancellor visited the school as part of an EU project day and also answered questions from the students. The reaction of the verbally attacked activists was not long in coming thanks to their well-organized press department. They were – unsurprisingly – outraged to horrified. According to a longer TwitterContribution under the heading "What do Scholz allow?" there:
"We ask ourselves, stunned: Mr Scholz, how dare you stand in front of the children whose future you are destroying and say that you find protest against your destructive policies 'completely crazy'?

…even though he knows he's shoving these kids onto a global school bus that's '98% likely to have a fatal accident'."
Scholz repeated his incomprehension about the forms of protest by such activists, who in his eyes do not contribute "to anyone changing their mind, but above all everyone was annoyed". Scholz clearly stated his personal opinion at the Kleinmachnow school:
"This is an action that I believe will not help."
As early as November last year, the Chancellor unequivocally criticized what he saw as a counterproductive form of protest by the "Last Generation" group:
"If you are a young man or young woman who wants to work for climate protection and renewable energies today, you don't have to be stuck on airport runways."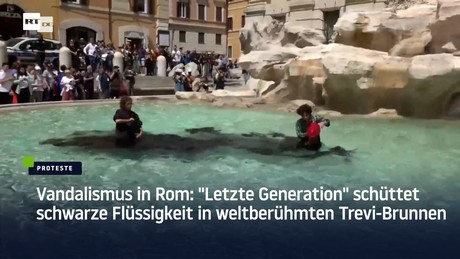 Vandalism in Rome: "Last Generation" pours black liquid into the Trevi Fountain
He could not "understand these actions, they are not only incomprehensible, but also extremely dangerous," Scholz explained in his assessment. The Hamburg news magazine The mirror, which itself receives around 2.3 million euros over three years from the Gates Foundation for the "Global Society" project, reported on the irritated verbal conflict on both sides under the headline "'Last generation' defends itself against the Chancellor's criticism: 'Mr Scholz, how dare you?' – Now comes the answer. And it is no less clear". According to the understanding of the climate stickers, there would be an essential one responsible for the coercion of Berlin citizens that has been going on for weeks due to the disruptive actions:
"It is his – Scholz – fault that people on Germany's streets have to try peacefully to fight for their basic rights."
The insinuation that the chancellor is currently personally to blame for irresponsibly "pushing children onto a global school bus…" is actually correct Citation from 2021, originally by Prof. Hans Joachim Schellnhuber, the founding director of the Potsdam Institute for Climate Impact Research (PIK).
The activists are currently continuing their blockades in Berlin, completely unimpressed to the outside world, where, according to the police, 250 officers were on duty on Monday alone. In addition, two activists were temporarily arrested in front of the Federal Constitutional Court in Karlsruhe "after they tried to tamper with a stone with the inscription 'Federal Constitutional Court'," reports The mirror.
The activists wrote in Olaf Scholz's virtual homework notebook via Twitter: "When young people take to the streets to demand their right to life, they need a Chancellor with answers – not one who declares peaceful protest to be 'stupid'".
More on the subject – "We need money!" – "Last Generation" resorts to begging
Be the first to read breaking news on OopsTop.com. Today's latest news, and live news updates, read the most reliable English news website Oopstop.com