Mukul Roy Join TMC Latest News: BJP National Vice President Mukul Roy has joined his old party Trinamool Congress. On this, the BJP has given a strong reaction and said that the political journey of Mukul Roy is over now.
Kolkata
Mukul Roy, who took over as the national vice-president of the BJP, on Friday returned to the Trinamool Congress along with his son Shubhranshu, in a setback to the saffron party. BJP has reacted strongly to this. BJP MP Arjun Singh said, 'Mukul Roy was never a leader of the people. Politics cannot happen in West Bengal from AC room. His time in politics is over. Nobody trusts them. Everyone knew that he gives inside information of BJP to TMC. If the rivals find out about your plan, it hurts you.

Speaking on Mukul Roy, BJP MP Arjun Singh said, "When Abhishek Banerjee emerged in politics, he (Mukul Roy) was pushed out of the house, then he joined BJP. After joining BJP, once Chowmein went to eat, then went to TMC… His Aaya Ram is the story of Gaya Ram.


BJP MP called Mukul Roy as Mir Jafar
BJP MP Soumitra Khan on Mukul Roy joining TMC said, 'East India Company had kept a Mir Jafar to enter India, history has Mir Jafar which destroys the entire caste, the whole country. Mukul Roy is a Mir Jafar.

West Bengal BJP general secretary Sayantan Bose said that the West Bengal BJP has constituted a disciplinary action committee to take action against the leaders who go against the party. State President Dilip Ghosh will take the final decision on this. The committee was constituted last year, but it is not too late.

Mukul Roy returns to his old party Trinamool Congress
Senior BJP leader Mukul Roy returned to his old party Trinamool Congress along with his son Shubhranshu on Friday in a jolt to the saffron party. He was received by Bengal Chief Minister Mamata Banerjee and other leaders of the ruling party of the state. Roy, who holds the post of national vice-president in the BJP, said he is "happy to see all the familiar faces again.
Mukul Roy was threatened in BJP: Mamata
Addressing a press conference, Trinamool supremo Mamata Banerjee said that Mukul Roy was threatened in the BJP and it affected his health. The Chief Minister said that Mukul's return proves that BJP does not allow anyone to rest and exerts undue pressure on everyone. Both Mamta and Roy claimed that there was never any difference of opinion.
TMC MLA murder case: BJP leader Mukul Roy's name in CID chargesheet

TMC will not take everyone back in the party
Asked whether her party would also take back other leaders who have joined other parties, Mamata made it clear that those who left the Trinamool and joined the BJP just before the April-May assembly elections will not be taken back. Roy, once the second most prominent leader in the Trinamool, was removed as the party's national general secretary in February 2015. He joined the BJP in November 2017.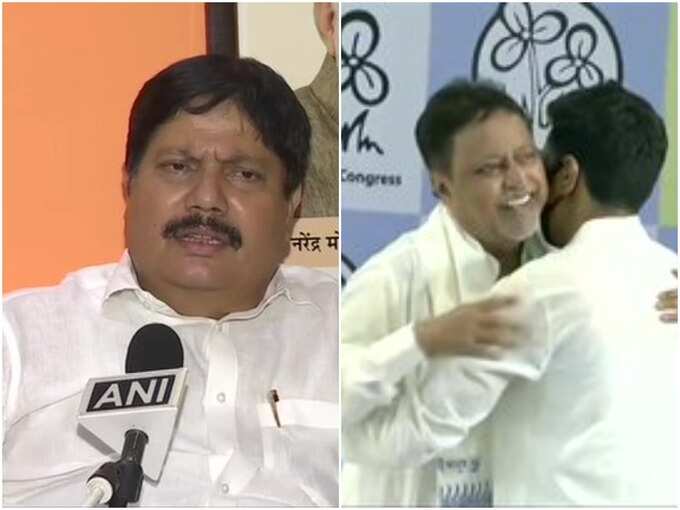 .