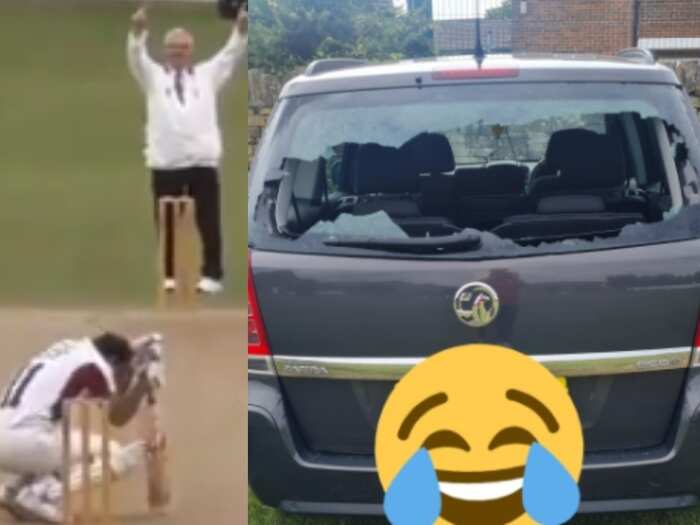 Asif Ali Six: Batsman Asif Ali scored 43 runs in this match. However, his team suffered a loss against Sowerbe St Peters CC in the Crossley Shield quarter-final match.
New Delhi
You must have seen many times in cricket that when the batsman hits a six, the ball crosses the boundary and hits the fans sitting in the spectator's gallery. Sometimes the fans also catch it easily. A similar incident happened in a local club match in Yorkshire, England.

This match was played between Illingworth St Mary's Cricket Club and Sowerby St Peters CC (Illingworth St Mary's cricket club vs Sowerby St Peters CC). Batsman Asif Ali, playing for Inlingworth St Mary's Club, hit a brilliant six over fine leg. However, the batsman's joy turned into despair when he came to know that the ball had hit the boundary and hit his car.

As a result, the rear glass of Ali's car was shattered. Seeing this the players and the umpire of the opposition team could not stop laughing. Seeing all this, Ali sat down on the pitch with his hands on his head.

Within no time this video was uploaded on the Twitter handle of Inlingworth St Mary's Cricket Club, after which the fans started having fun. The club has also posted a photo with this video in which the broken glass of the car is clearly visible.

Asif Ali scored 43 runs in this match. However, his team lost the Halifax Cricket League by seven wickets. This was the quarter final match.

Then the windshield of the car of Kevin O'Brien of Ireland was broken.
A similar incident happened with Ireland all-rounder Kevin O'Brien in August 2020. His car was damaged by Kevin O'Brien's six in the home match.

In the T20 Inter-Provincial Series Clash at Pembroke, Kevin O'Brien scored a blistering 82 off 37 balls while playing for Leinster Lightning. Due to his innings, the Lightning team added 124 runs for 4 wickets in 12 overs against North West Warriors in the rain-interrupted match.

During this, Brian hit such a six that the ball fell directly on his car and the rear glass was completely broken. Cricket Ireland also shared a picture of his car. He hit 3 fours and 8 sixes in his innings. His strike rate was more than 221.
.