Lucknow:
There is an election in 2024 as well. We have to fight elections only. Why, what will we do sitting idle at home? Arey, our job is to contest elections only. Will contest from the same place where he contested the first election. If Kannauj is empty then what will we do. Where will these expressways, hospitals, mandis all go? Who made this? Arey, they are not able to fix even his brick. Can't even give medicine. Now our party will decide about fighting from Kannauj.
Akhilesh Yadav said these things. He was talking to reporters on Thursday. With this one gesture of Akhilesh in the statement, the discussion market got heated in the corridors of politics and media.
Samajwadi Party national president Akhilesh Yadav was asked a question about fielding wife Dimple in the Mainpuri by-election. Former UP Chief Minister Akhilesh clearly said that the 2024 elections are also in focus. He has indicated. Hinting that it is not only the Bharatiya Janata Party that is preparing for the Lok Sabha elections. Akhilesh has also started preparations for the Lok Sabha elections to be held a year from now.
Akhilesh is sweating at the ground level
After the assembly elections held in March this year, Akhilesh Yadav is seen working hard at the grassroots level for the first time. After losing two consecutive assembly elections, he is seen on the back foot in state politics. If we talk about the Lok Sabha, then in both the 2014 and 2019 elections, the BJP won the election. Barring the seats of the Yadav family, saffron was seen waving almost everywhere.
Changed axis of relations or political compulsion? Why did Akhilesh make Shivpal a star campaigner in Mainpuri bypoll?
Dimple will descend from Mainpuri and from Kannauj himself!
After the demise of Mulayam Singh Yadav, the Mainpuri Lok Sabha seat fell vacant, after which Akhilesh Yadav's wife and Mulayam's daughter-in-law Dimple Yadav was fielded. Dimple Yadav is fighting the battle of Mainpuri to handle Mulayam's legacy. After today's statement of Akhilesh Yadav, it has become clear that Dimple will be the candidate from Mainpuri in the 2024 Lok Sabha elections. Also, Akhilesh's focus is on the Kannauj Lok Sabha seat, from where he has been elected as an MP.
Akhilesh started focus on Lok Sabha
Akhilesh Yadav, who is trying to strengthen his political base in Uttar Pradesh, has learned his lesson after the defeat in the assembly elections and the subsequent bypolls. After the demise of father Mulayam, the responsibility on his shoulders has increased even more. Along with his family, practicing politics is the biggest challenge for him at the moment. In such a situation, Akhilesh Yadav has done complete planning for the 2024 Lok Sabha elections. And his first focus in this episode is to win those seats where the Samajwadi Party and the Yadav family have been in a strong position.
What is Akhilesh's preparation on Azamgarh seat?
Akhilesh Yadav was a Member of Parliament from the Azamgarh Lok Sabha seat of Purvanchal. This time after winning the Karhal seat in the assembly, he resigned from the Lok Sabha membership. After his departure, a by-election was held in Azamgarh, where he fielded cousin Dharmendra Yadav. But he lost to BJP's Dinesh Lal Yadav Nirhua. Now that Akhilesh has indicated that he may contest from the Kannauj Lok Sabha seat, it is clear that if he leaves assembly politics, he will not go towards Azamgarh.

Dimple compulsion or necessary for Akhilesh Yadav? Mainpuri's attempt to solve political maths, eye on 2024
Big responsibility to set Dharmendra Yadav
In Azamgarh, Akhilesh took over the legacy after his father Mulayam Singh Yadav. Both father and son have been MPs from here. However, Dharmendra Yadav was defeated in the by-election. Now in 2024, does Akhilesh give another chance to Dharmendra Yadav from Azamgarh or not? Dharmendra Yadav and Azamgarh are also special because Dharmendra was elected MP from Badaun Lok Sabha seat. And if it is his turn to contest elections, he can obviously claim the Badaun seat.
What is Akhilesh thinking about Shivpal and son Aditya?
Shivpal Yadav's role in Saifai clan is also very important. After the death of Mulayam, the distance between Akhilesh and his uncle Shivpal seems to be decreasing. Both uncle and nephew are together seeking votes for Dimple Yadav in Mainpuri elections. Akhilesh further cemented the family bond by touching Shivpal's feet and taking a photo. Shivpal had differences with Akhilesh Yadav when he was the Chief Minister, which became very public.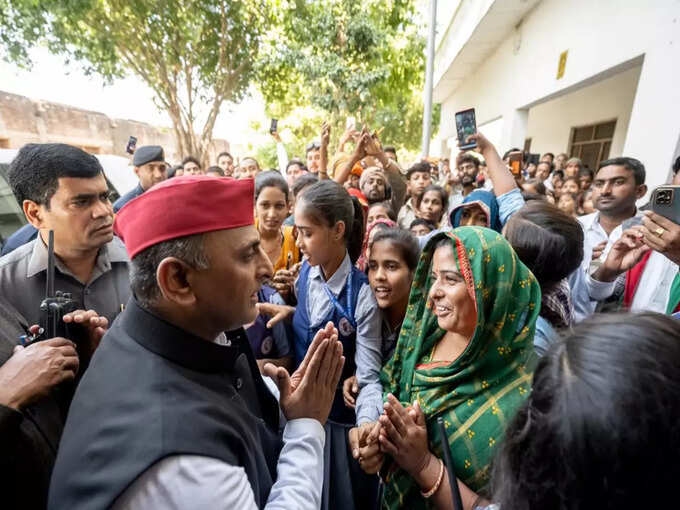 Angered, uncle Shivpal formed his own party. However, this time he came with Akhilesh in the assembly elections. But he was angry about being given representation on only one seat. The important thing is whether the affection that is being seen between the two will last till the 2024 Lok Sabha elections or not. If it remains, it will be a challenging decision for Akhilesh to make either Shivpal or his son Aditya a Lok Sabha candidate.
After this, there are many faces in Akhilesh's family like Tej Pratap Yadav, Akshay Yadav, Anshul Yadav, who are active in politics. The way in which the BJP has started preparing to reduce the number of seats of the Samajwadi Party even further by engaging in mission mode. Looking at that, Akhilesh's preparation will also prove to be important.
Be the first to read breaking news on OopsTop.com. Today's latest news, and live news updates, read the most reliable English news website Oopstop.com