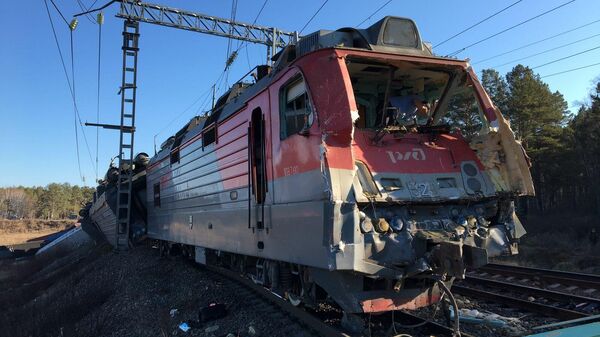 BLAGOVESCHENSK, 23 October –
The family of an assistant driver who died in a collision between a truck and a freight train at Ledyanaya station
Transbaikal railway
(ZabZhD) assistance will be provided in the Amur region, ZabZhD reports.
As the press service of ZabZhD reported, on Saturday the truck driver, despite the warning signals of the traffic light, drove onto the railroad tracks in front of the approaching freight train. The driver applied emergency braking, but the distance was insufficient, and the collision could not be avoided. As a result, a locomotive and 14 carriages of a freight train derailed, a car driver and an assistant driver died.
"The family of the assistant driver Yevgeny Rodionov, who died in an accident while moving in the Amur Region, will be provided with comprehensive assistance related to the solution of housing issues, the provision of social conditions, as well as the upbringing and further education of a minor child … The driver-instructor and the driver were delivered to medical institutions. Currently, one of them was operated on, the second is being prepared for surgery. The state of health of the victims is under the special control of the management of the Russian Railways company
informs
Transbaikal railway.
After the incident, traffic on one railway track was opened. Passenger trains detained due to the accident were sent along the routes. The restoration work continues. To coordinate the work to eliminate the consequences of the accident at JSC "
Russian Railways
"and operational headquarters are working on the Trans-Baikal Railway.
…