Started the day with exercise
Soviet people woke up to the calls of home radio to get up for exercise. And they really did. Every Soviet man had a set of dumbbells, and women had a hoop and a skipping rope. Some schoolchildren even managed to run in the morning before classes with their parents.
School classes began not with a ruler, but with exercises: all classes lined up in rows in the corridor and, on command from a loudspeaker or at the direction of a physical education teacher, did the simplest exercises – waved their arms, leaned over, marched in place.
Five-minute unloading sessions were often arranged by teachers even during lessons. It all started with the famous exercise "We wrote, we wrote, our fingers are tired!", When schoolchildren quickly spread and squeezed their fingers, and ended with a march in place at the desk and tilts. At recess or if the teacher fell ill, the students threw their bags and went to play football.
In production, during the working day, general warm-up exercises were carried out, and women were most happy about this: they saw this as a real opportunity to warm up and exchange words with each other.
We had a hearty breakfast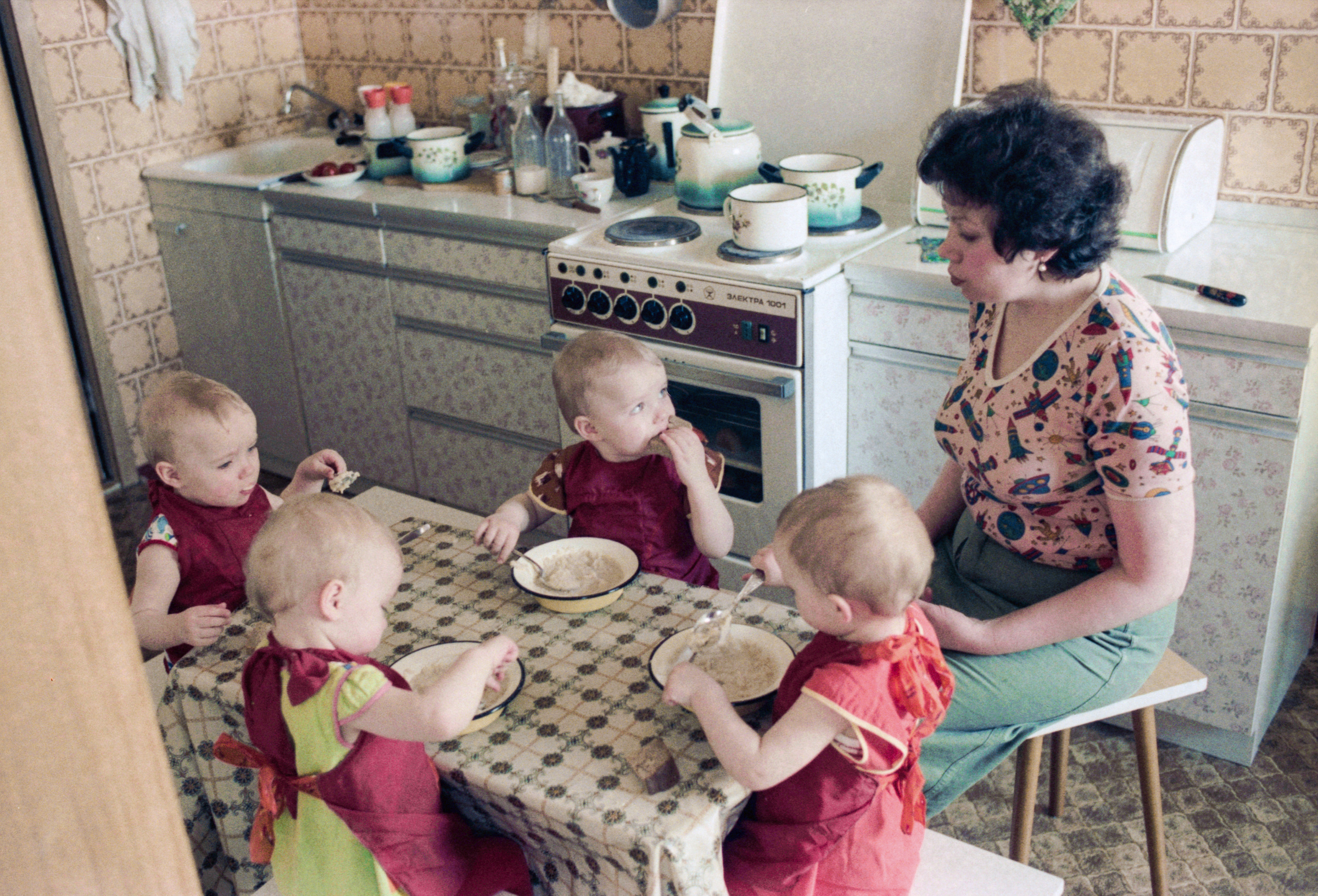 The twins eat porridge for breakfast. Photo © TASS / Alexander Chumichev
The Soviet man's breakfast was hearty. Many followed the Eastern proverb: "Eat breakfast yourself, share lunch with a friend, and give dinner to the enemy!" Single women followed this simple rule especially precisely: they came home from work, knowing that the child had eaten in kindergarten or on an extension, and drank kefir or grated carrots for dinner. But breakfast could consist of scrambled eggs, a couple of sandwiches and tea with milk. They left for work by eight, and lunch could not be earlier than an hour, which means that they had to stock up on calories that were consumed during the day. There was another option: those who took care of themselves in the morning drank only a glass of raw water – it was believed that this helps the body wake up, and had breakfast already at work – at about 10 o'clock in the morning the workers were supposed to have a 15-minute break.
had lunch
Three hours after dinner, many snacked on something light. This made it possible to dull the feeling of hunger and not attack food in the evening. Exactly the same routine was used by the pioneers in the holiday camps – usually they gave kefir and a small bun or an apple for an afternoon snack.
Were always busy
The Soviet people were more loaded with work and affairs. There was simply no time to think about food. Okay, if you're just working. And if you are still studying at the institute at the correspondence department? Or in the evening? And if you also have a small child who needs attention? Or a student whose progress and homework should be checked? But you still need to cook, wash, and the machines in those days were not automatic, but of the activator type – you had to rinse and wring out everything with your own hands. We also have to clean, read textbooks, write term papers and improve our skills in production. Such a heavy load comes out. No time to think about food.
went in for sports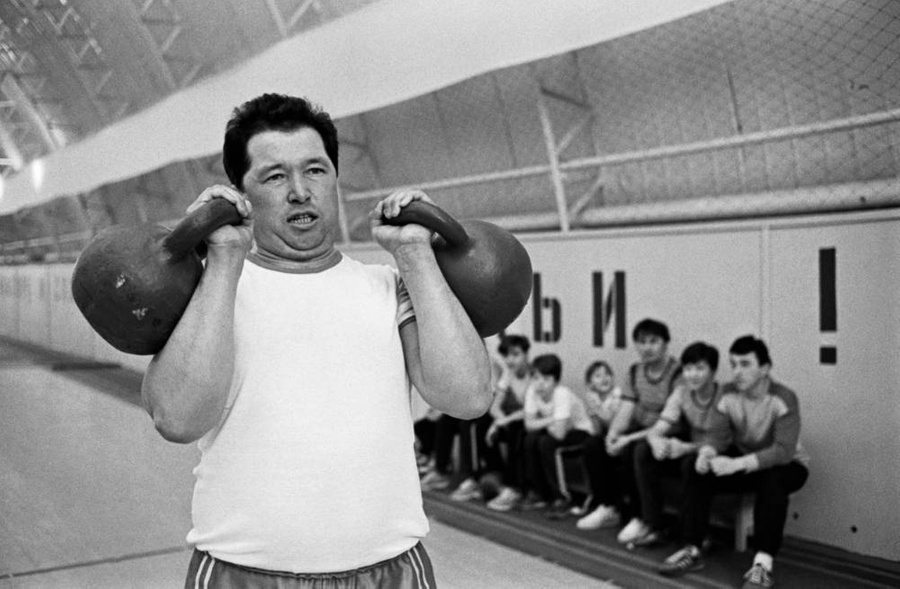 The electrician of the Ulyanovsk poultry farm Ivan Argudyaev is one of the strongest weight lifters in the region. Photo © TASS / Yuri Belozerov, Yuri Nabatov
Soviet people were accustomed to sports from childhood: already in kindergarten, everyone was put on skis. At school, it was compulsory to attend physical education classes, cross-country skiing, ski races for three, five kilometers, gymnastics in the gym – on uneven bars, on a balance beam, jumping over a goat, running, somersaults, and finally, football, basketball and pioneer ball.
At the same time, in each class, 5–6 people went in for some kind of sports, and one of them always dreamed of a professional career as an athlete. At the institute or vocational school, all this continued. Weekend hikes were considered good manners.
After graduating from the institute, physical education continued almost everywhere. During the holidays, Soviet people went hiking with backpacks, went skiing, shooting, mountain hiking, rode bicycles with pleasure – often very far, tens of kilometers from home.
And even stay-at-homes, and they were engaged in physical education – from 15 to 45 years old they played volleyball on the playground near the house. It did not require any special equipment: a ball, two poles and a rope. Schoolchildren and students played football with yard teams, and in winter they skied or played hockey. Even pensioners, and they were engaged in physiotherapy exercises in physical education dispensaries, where they were sent by doctors.
Followed sports fashion
The USSR was periodically overwhelmed by various fashion trends related to a healthy lifestyle. Then everyone began to "breathe according to Buteyko", then they suddenly refused milk – it is harmful, then they all went in for yoga and breathed at the window, absorbing prana. Then all the women without exception, almost up to 50 years old, began to do aerobics.
Then all of a sudden they began to harden and swim in the hole. After – like Forrest Gump – crosses ran for long distances. Doctors often picked up new fashion trends, proving that all this is very useful, and this pushed the Soviet healthy lifestyle to the masses. The promotion of new ideas often took place with the help of the Health magazine, which described new methods of recovery and published types of gymnastics for joint pain. Or in the back, or somewhere else. In general, the same thing happened as now, but then such movements embraced a wider mass of the population.
We walked
Physical inactivity is the scourge of modern society. There were few cars in the USSR, public transport was not very punctual, so there was much more walking. Often walked to work; they walked home from work, on the way going to the kindergarten for the child and to the store, then they dragged heavy bags with prey home. In the evening they could walk around the city, and on weekends they could go jogging through it or wave into the forest. And again, walk 10-12 kilometers.
Rest in the dispensary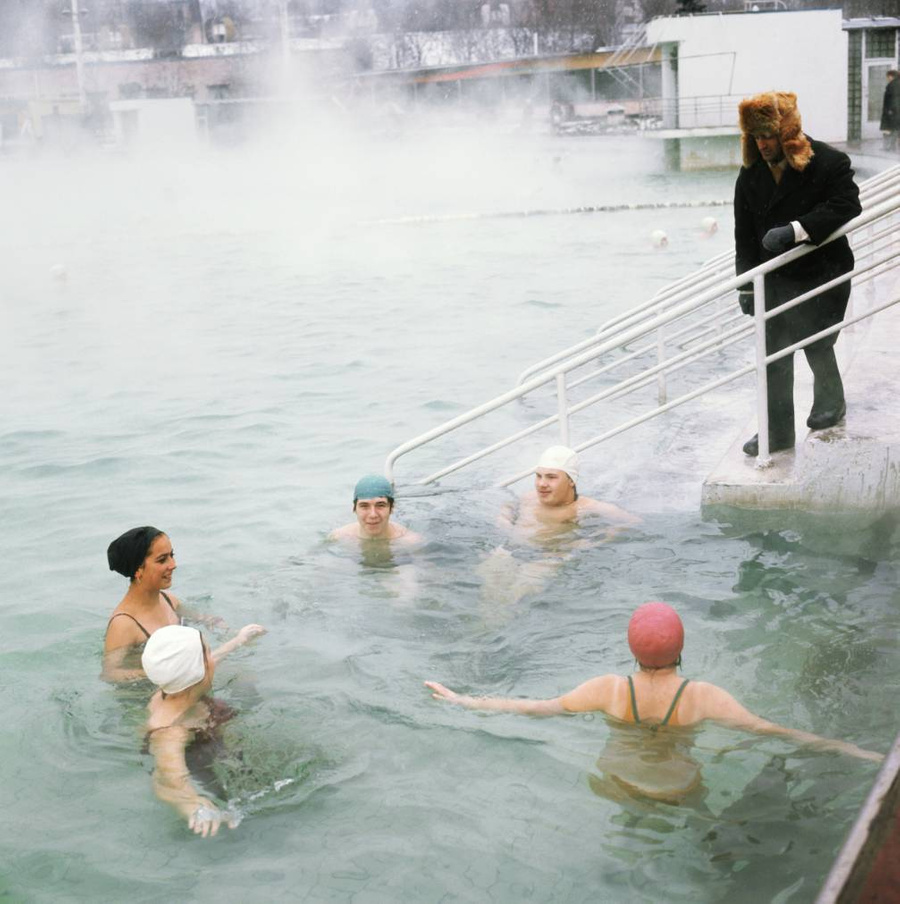 Photo © TASS / Alexey Stuzhin
The Soviet people were kept in good shape by the health care system, which was interested in the fact that the citizens of the country were good workers and did not get sick. Approximately once every three years, a ticket to a sanatorium or dispensary was allocated. This was done more often if the worker had a chronic illness and needed treatment. And many in those years had the opportunity to treat the kidneys in Truskavets, the joints – in the resorts of Buryatia, and the stomach – in Minvody. Here, they tried to make the Soviet citizen 100% healthier – he not only drank mineral water, selected especially for him by doctors, but also swam in the pool, walked along hiking trails, underwent physiotherapy, attended dances in the evening and returned home thinner and fit.
Followed the recommendations of doctors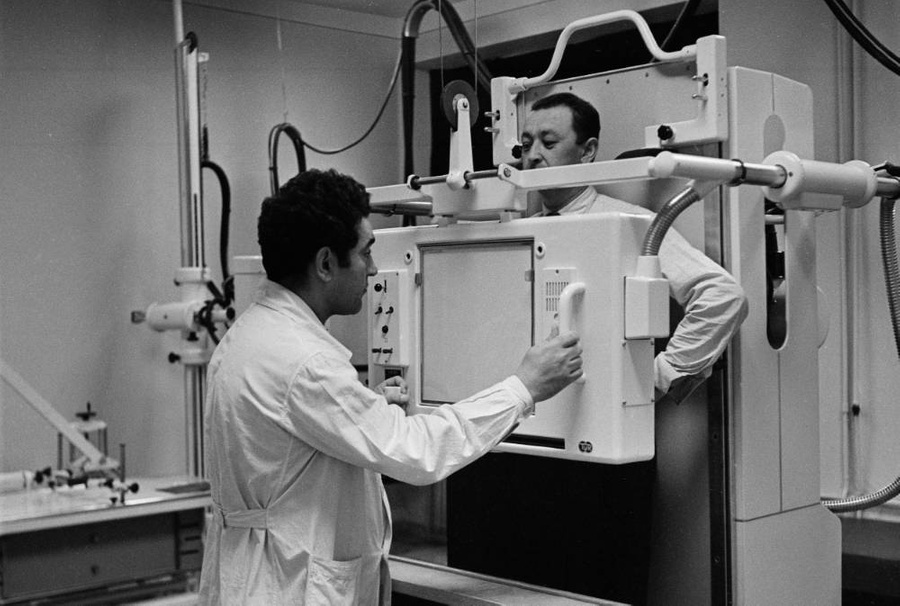 In the USSR, they were engaged in self-treatment only in the absence of a number of hospitals. In any other case, they turned to doctors, and most importantly, they followed their instructions without fail. If the doctor forbade eating fatty, salty and sweet things, they did so. If the doctor demanded to lose weight, they lost weight. If he prescribed a certain diet, they strictly followed it. If he demanded that the patient go to a certain resort, then he gave a referral with which it was easier to get a ticket, and the patient went to be treated at the same resort recommended by the doctor. Here, the trade union always came to the aid of doctors – unhealthy workers and their children were on special records, often special products were allocated to them. For example, buckwheat, which was scarce in Siberia, or special oatmeal. Or they allocated coupons for food in a dietary canteen, where an unhealthy citizen was treated to fish boiled in milk and steamed cutlets.
By the way, in the USSR there was the Institute of Nutrition, where they were engaged not only in the development of menus and diets, but also treated obesity. It was difficult to get there: only very overweight people, whose weight was associated with diabetes or other metabolic disorders, were treated in the department of the institute. But even here, the diet was necessarily supplemented by physiotherapy exercises and walks.
Constantly taking care of yourself
There were few cosmetics in the USSR, and women who wanted to look good were forced to resort to natural cosmetics: they made cucumber masks, cucumber juice lotions, applied either oatmeal or strawberries to the skin, took baths with salt and fir extract, and the hair was treated as best they could – some with burdock oil, some with an egg, and some with nettle decoction.
In the late USSR, all sorts of headings became widespread: "Note to Housewives", where tips were often published on how to remove freckles with oatmeal, and black spots on the face with salt, and how to keep a curl with beer. But everything is natural and allergies are kept to a minimum.
The striving of the Soviet woman for beauty was striking. She went to bed with her hair wrapped in stiff curlers, smeared on her face with a greasy cream, and some also pulled up her chin with a towel! At the same time, you had to sleep strictly on your back. And they endured all this, just to look good in the morning! No wonder such people built such a wonderful country.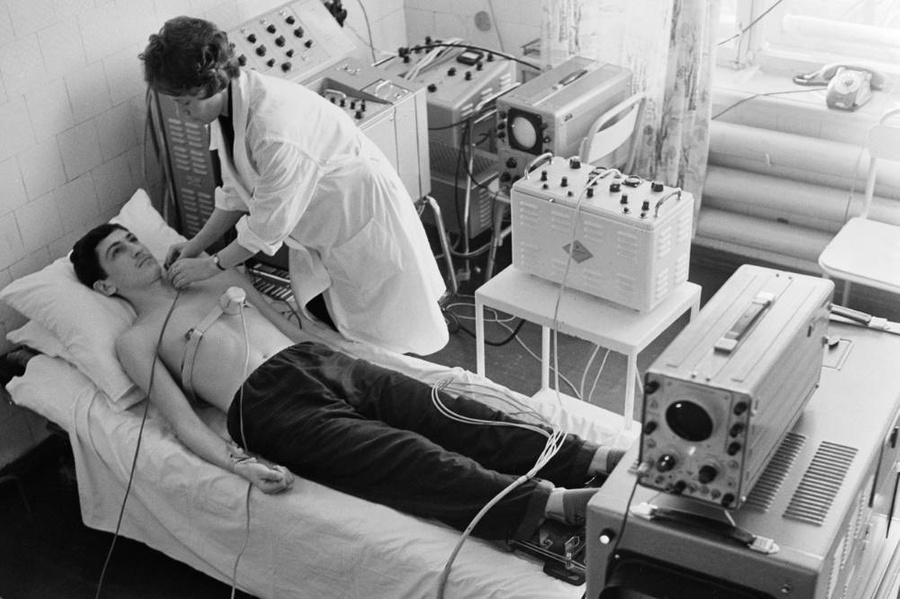 Photo © TASS
Why were the recommendations of doctors in the USSR more trusted than now?
.