CM Yogi Adityanath met PM Narendra Modi today after meeting with Amit Shah in Delhi. There are speculations that during this meeting, the cabinet expansion can be stamped in view of the 2022 elections in UP.
Highlights:
After Shah, CM Yogi Adityanath met Prime Minister Narendra Modi in Delhi today
Long meeting between Amit Shah and Yogi, discussion on 2022 roadmap and cabinet expansion
Shah also met Mirzapur MP Anupriya Patel and Nishad Party chief Sanjay Nishad.
New Delhi / Lucknow
The meeting between CM Yogi and Prime Minister Narendra Modi has ended in the PM residence in view of the assembly elections to be held next year in UP. The two talked for about 80 minutes. CM Yogi will now meet BJP National President JP Nadda. There is a discussion that after this he can also meet President Ram Nath Kovind. In view of Yogi's marathon meeting in Delhi, cabinet expansion in UP is believed to be fixed.
Earlier, Union Minister Amit Shah held a long meeting with CM Yogi, putting an end to the speculations about the change in the organization and the government. In UP, for almost a month, the voices of protest against the Yogi government are emerging from within the party. In such a situation, it is very important for Yogi to come to Delhi and meet Shah and PM.
Update @ 12.53 PM- Cabinet expansion is possible as soon as Yogi returns!
According to sources, in the meeting being held in Delhi today, the final seal will be given regarding the cabinet expansion. Cabinet expansion can be carried out as soon as CM Yogi Adityanath returns from Delhi. It is being told that Arvind Sharma, a close aide of Prime Minister Narendra Modi, and Jitin Prasad, who left the Congress and joined the BJP, can be given a place in the cabinet. Apart from this, four MLC seats are getting vacant, for whose claim Jitin's name is also discussed.
Updates @ 12.15 PM- Meeting with PM over, will now meet Nadda
Yogi Adityanath's meeting with PM Modi is over. The conversation between the two lasted for about 80 minutes. Now Yogi will meet BJP National President JP Nadda. There is a discussion that after this he can also meet President Ram Nath Kovind.
Update @ 10.54 AM- Yogi Adityanath reached to meet PM Modi
CM Yogi Adityanath has reached 7 Lok Kalyan residence to meet PM Modi. There can be a discussion between the two regarding next year's elections and possible cabinet expansion. After this, Yogi will meet BJP President JP Nadda.
Update @ 10.30 AM- Rajbhar took out anger on BJP
Former NDA ally Om Prakash Rajbhar targeted BJP amid talks of cabinet expansion. He tweeted, 'BJP is a sinking boat, who has to ride on their chariot, but we will not ride. When elections are near, they remember the backwards, when they have to be made Chief Minister, they bring them from outside. Four-and-a-half years have passed since the issues on which we had reached agreement, not a single work has been completed.
Rajbhar will tie up with Sankalp Morcha
Rajbhar further wrote, 'Backward's right was looted in teacher recruitment in UP, from what mouth will the BJP, which does not give share to the backwards, come to seek votes among the backwards? They remember backward only for votes. We have formed Bhagidari Sankalp Morcha, who want to defeat BJP in UP, we are ready to form an alliance with them.
BJP wanted to bring back Rajbhar
There was a discussion that the BJP was engaged in the exercise of the return of Suheldev Bharatiya Samaj Party (SubhaSP) President OP Rajbhar. those of backward class
OP Rajbhar was being contacted again for an alliance, but it is clear from Rajbhar's tweet that he has turned down the BJP's invitation for the time being.
Update @ 8.49 AM- meeting will be held at PM's residence
According to media reports, CM Yogi will reach the PM residence at 10.45 am today and will meet the Prime Minister. After this, around 12.30 pm, BJP President will meet JP Nadda.
One and a half hour meeting with Shah
Before meeting the PM, there was also a meeting between PM Modi and BJP National President JP Nadda on Thursday. On the other hand, Amit Shah's meeting with Yogi lasted for about one and a half hours. It is being told that during this there was also discussion about the roadmap for 2022 and possible cabinet expansion.
Anupriya Patel also met Shah
After meeting Yogi, Amit Shah sat with two leaders of the alliance in UP, Anupriya Patel of Apna Dal (S) and Nishad Party chief Dr. Sanjay Nishad and listened to him. Jitin Prasada, who joined BJP on Wednesday, also came to meet Yogi Adityanath. The stir among the leaders of UP has intensified in Delhi. The leaders associated with UP are constantly going to meet Yogi.
Jitin Prasad on Joining BJP: Why did you leave Congress and join BJP, Jitin Prasad told the reason
Earlier on Wednesday, BJP included Congress leader Jitin Prasada in the party. It is considered very important from the point of view of UP. BJP also said that Jitin Prasad will have an important role in UP. BJP is trying to fit all the equations before the elections. It is believed that some decisions can be taken in this Delhi tour of Yogi Adityanath.
Cabinet expansion, vacant posts will be filled
Sources say that after the entire exercise going on in Delhi, it has been decided that cabinet expansion will happen soon in UP and vacant posts in commission-corporations will be filled. At present, seven seats are vacant in the cabinet, on which Apna Dal (S) and Nishad Party, which have so far neglected themselves, are also claiming. Apart from this, about 110 posts are vacant in the Commission-Corporations including the Chairmen of Minorities Commission, Backward Classes Commission and Scheduled Castes Commission. Discussions have also taken place about the names of the big three commissions.
Jitin and AK Sharma can get important posts
At the same time, the names of Jitin Prasad and MLC AK Sharma, who came from Congress to BJP along with the contenders for the alliance, are also included in the cabinet. Four MLC seats are getting vacant in UP, they are also being claimed. Sources say that Shah has suggested a way to give edge to UP's election preparations by eliminating the 'backlog'. UP BJP will move ahead on this.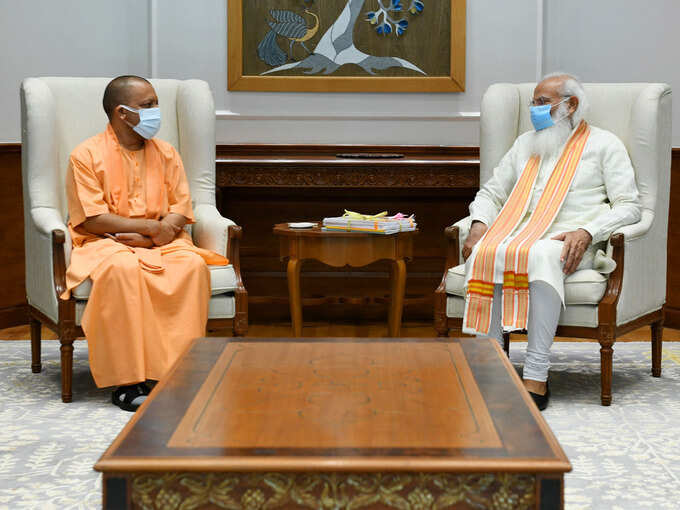 .