Suheldev Bharatiya Samaj Party leader Om Prakash Rajbhar said that BJP remembers the backwards only at the time of elections. He said that BJP has cheated backwards.
Highlights:
SBSP President Om Prakash Rajbhar targets BJP
Where the Bharatiya Janata Party remembers backward at the time of elections
BJP had promised to make Keshav Prasad Maurya as CM: Rajbhar
Lucknow
Former UP minister Om Prakash Rajbhar has made a big statement amidst the ongoing meetings of CM Yogi with BJP leaders in Delhi and the possibility of BJP forming an alliance with regional parties belonging to backward castes. Rajbhar, the president of Suheldev Bharatiya Samaj Party and a minister in the Yogi government, has targeted the BJP, saying that the Bharatiya Janata Party is a sinking ship. Rajbhar said that BJP remembers the backwards only at the time of elections and makes people from outside to make them CM.
Talking to a TV channel, Rajbhar said that BJP has cheated backwards. Keshav Prasad Maurya was asked to become CM, but did not make it. They remember the backwards only at the time of elections and drama is going on from UP to Delhi. Apart from this, Rajbhar in one of his tweets called BJP a sinking ship and said that he will not forge an alliance with the party.
The Chief Minister is made by bringing them from outside: Rajbhar
In his tweet, Rajbhar wrote, 'BJP is a sinking boat, who has to ride on their chariot, but we will not ride. When elections are near, they remember the backwards, when they have to be made Chief Minister, they bring them from outside. Sixty-four years have passed on the issues on which we had settled, not a single work has been completed.
Shah, Modi, Nadda and then the President… What is this series of meetings of Yogi in Delhi saying?
'Which mouth will the BJP seek votes among the backwards'
In another tweet, Rajbhar said, "In Uttar Pradesh, the rights of the backwards have been looted in teacher recruitment, from which face the BJP, which does not give share to the backwards, will come to seek votes among the backwards." They remember backward only for votes. We have formed Bhagidari Sankalp Morcha, whoever wants to defeat BJP in UP, we are ready to form an alliance with them.

Rajbhar attacker between meetings in Delhi
Om Prakash Rajbhar was with the BJP in 2017 and after the formation of the Yogi government, he was made a minister of the Backward Classes Department. Rajbhar later broke ties with the BJP and then was seen making frequent statements against the Yogi government. At this time Rajbhar's statement has come in such situations that CM Yogi is in Delhi. On the day of his arrival in Delhi, big BJP leaders have met backward caste leader Anupriya Patel and Nishad Party chief Sanjay Nishad.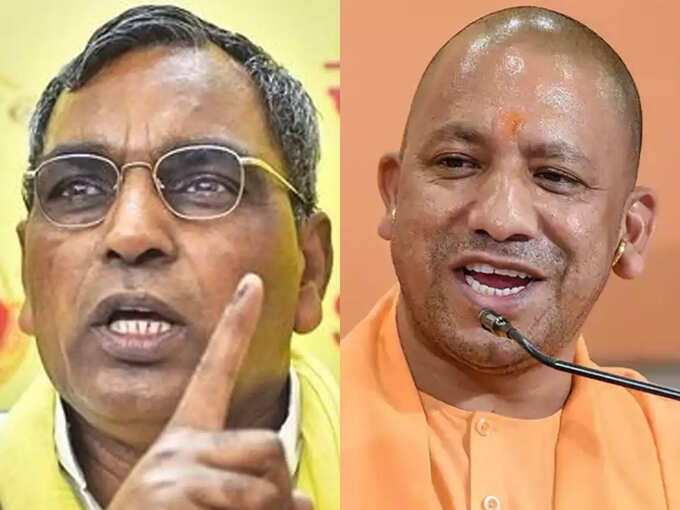 .