At present, a team of doctors and officials of Nashik Municipal Corporation has reached Arvind Sonar's house to investigate this matter and it is being checked that after all how so much magnetic effect is being created in his body.
Highlights:
After applying the second dose of corona vaccine, the body became a magnet!
Arvind Sonar of Nashik has recently got second dose
Coins and steel utensils stick on the body
Nashik Municipal Corporation's team also investigated Arvind Sonar
Nashik
A strange case has come to light in Nashik district of Maharashtra. Where an elderly person has made a strange claim after applying the second dose of Corona. The elder says that after the second dose, magnetic power has arisen in his body. Because of this, now the steel utensils are sticking very easily on his body. Just like a magnet sticks to iron objects.
He has also made a video to prove this thing. In which it is clearly visible that spoons, small plates and utensils used in the house are sticking to the body.
Body made a magnet!
The name of this old man of Nashik is Arvind Jagannath Sonar. He has got both doses of corona vaccine a few days back. This strange power has developed in his body only after the completion of both the doses. Arvind lives at Shivaji Chowk in Nashik. When this incident happened for the first time, the family members felt that perhaps due to sweat, these utensils were sticking to the body. After which Arvind Sonar was bathed. Even after this, iron things kept sticking to his body. At present this incident is going on for several days.
This matter became a puzzle even for doctors
In such a situation, now this matter remains a strange puzzle even for the doctors of Nashik city. When this topic was discussed with Dr. Ashok Thorat of Nashik district, he said that it is a matter of research. It is too early to comment on this at the moment. After a thorough investigation, it can be concluded that what could be the reason behind this incident. At present, we will send its report to the Maharashtra government and work will be done as per their instructions.
saw video on youtube
Arvind Sonar's son tells that he had seen a video on YouTube in which a person from Delhi was telling that after taking second dose of corona, magnetic power has arisen in his body, after watching this video I also told my parents That should try it once. When we applied things like coins, spoons, plates to Papa's body, all those things got stuck on his body.
Now the whole family is shocked by this incident. Everyone wants to know that how such a huge amount of magnetic force has been generated in the body. However, even the doctors have no answer for this.
Confusion about the vaccine
There is already an atmosphere of confusion and fear in Maharashtra regarding the implementation of the corona vaccine. In many villages, people are afraid of getting the corona vaccine. In such a situation, if such news comes to the fore, then there may be problems in the vaccination campaign. Therefore, the government and the municipality should take this matter very seriously.
However, Navbharat Times Online does not confirm or support that this incident happened only after the second dose of corona vaccine.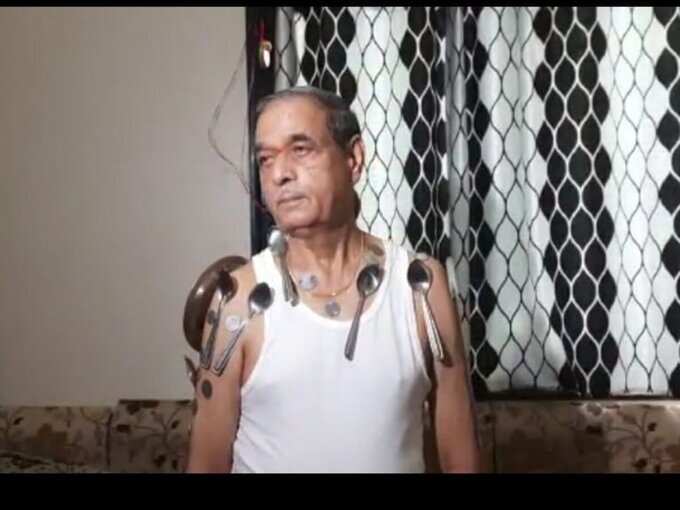 .