Madhya Pradesh Sagar: Four children and some laborers were trapped after the water level of the Sunar river in Sagar, Madhya Pradesh was trapped, who have been safely evacuated with the help of SDRF team.
Highlights:
The water level suddenly increased in the Sunar river of Sagar
Some children and laborers got trapped due to rising water level
With the help of SDRF, everyone was evacuated safely.
sea
In Madhya Pradesh's Sagar, the water level of the Sunar river suddenly started rising, due to which some laborers got trapped in the water near an under-construction bridge. After this he had to walk on a rope to save his life. Earlier, 4 children were also trapped in the river, who were rescued after hard work.
According to Sagar SP Vikram Singh Kushwaha, "Four children were stranded on the other side of the river after the water level in the river increased. Some laborers were also stuck on an under-construction bridge. SDRF team has rescued everyone safely.
When 4 children were trapped in the goldsmith river
Earlier, due to the sudden increase in the water level of the Sunar river, the river was in spate. Four children, two of whom were around 5 to 6 years old, were trapped between the strong current of the river near Ranguwa village of Gadhakota. The rescue team and local people got involved in the task of bringing the children to a safe shore. After 6 hours of hard work, the children were rescued safely.
It is being told that the water level of the river suddenly started rising and before the children could understand anything, they were surrounded by waves. The flow of the river was so fast that a diver who came in the boat could not reach the children. A diver remained near the children, after which the relief work continued.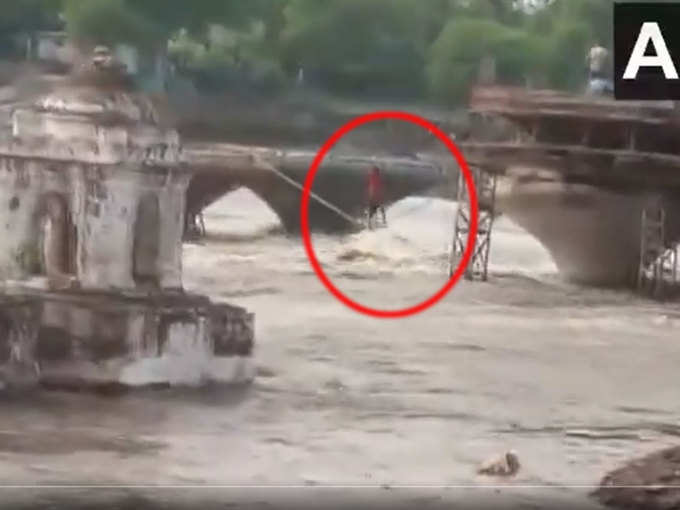 .