A Divyang fan of Bhojpuri superstar Pawan Singh reached Arrah by riding a tricycle from Motihari. He met Pawan Singh met his fan after a difficult journey of 5 days.
Highlights:
Divyang youth reached Bhojpuri star Pawan Singh after traveling long distance
The youth reached Ara to meet Pawan Singh from Motihari by driving a tricycle
Passion to meet Bhojpuri superstar Pawan Singh brought a handicapped young man
Divyang youth took 13 days to reach Ara from Motihari
jigsaw
The tales of fan's craze for film actors have come into the limelight many times. But this time a fan surprised everyone with his courage. The fan who has shown passion for Bhojpuri film star Pawan Singh is a Divyang. The name of this Divyang is Ashok Sah, who covered a distance of 165 km only by tricycle to meet Pawan Singh.
Pawan Singh's fan Ashok reached Ara from Motihari in 13 days
Divyang youth Ashok is a resident of Motihari and he reached Arrah by tricycle to meet Pawan Singh. Ashok reached actor Pawan Singh's house and met him. According to Ashok Sah, who reached Ara from Motihari, it took him 13 days to reach Ara from Motihari. Throughout the day he used to ride his tricycle and when it was night, he would take rest for the night because he just had to reach Ara and wish to meet Pawan Singh.
Pawan Singh promised the fan to come to his house when he comes to Motihari
Ashok Sah told that he is a big fan of Pawan Singh. When he came to know that Pawan Singh was still living in his village Arrah, Motihari left his house on a tricycle to meet him. Pawan Singh was also stunned by meeting his fan. Pawan Singh praised Ashok's courage and said that Ashok's love for him is God's blessing. The Bhojpuri actor promised to come to Ashok Sah's house when he comes to Motihari and said that whenever he comes to Motihari, he will definitely visit his house.
View this post on Instagram

Pawan Singh living in Arrah due to corona infection
Bhojpuri star Pawan Singh has been living in Arrah for the past several months. He returned to his home in Ara after the corona infection increased in Mumbai. The shooting of films has also stopped. Let us tell that Pawan Singh has also shared a video of this meeting with his fan and said that this boy has come to my house after walking from Motihari. I am speechless. How can I praise this brother, that's why I speak, the public is God for me. On reaching Ara, Pawan Singh himself encouraged the young man, fed him food and drink at his house and on his way gave him the cost of food and drink on the way. Pawan Singh was also very happy with his passion.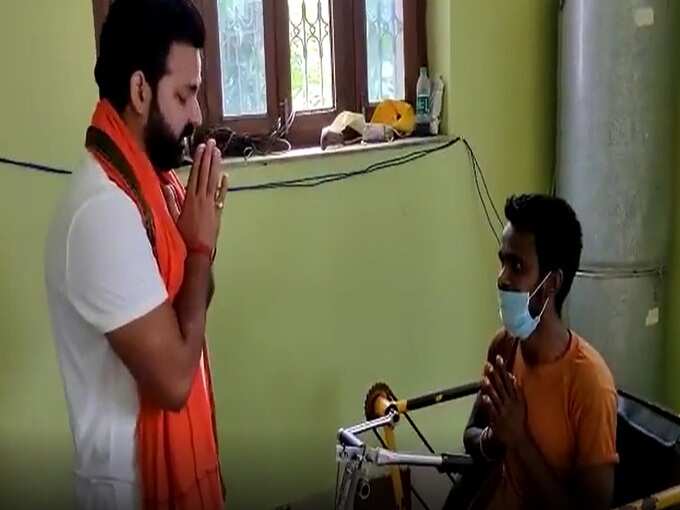 .