Apple iOS 15 vs Android 12: Here we are telling you about the features and specifications of both these operating systems, how which operating system will work.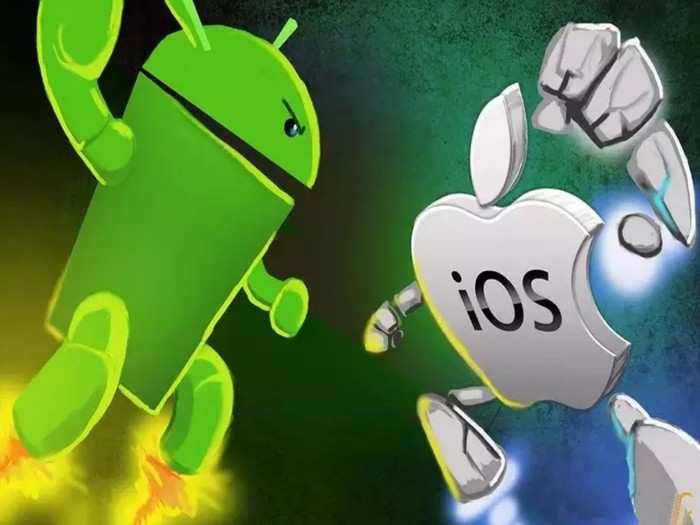 Highlights:
Many features are present in iOS 15
Android 12 was also made Damda
Both are giving tough competition to each other
New Delhi. Apple iOS 15 vs Android 12: Apple recently updated iOS 15 at the WWDC 21 event. After this, there will be a lot of big changes in the iPhone. This time around, Apple has paid a lot of attention to privacy and personalization while solving the notification issue. Although this is not as big a change as the previous operating system iOS 14, but there is a lot of new for the users. Similarly, it is also being said about Android 12. Google's annual upgrade to Android saw massive changes like iOS 14 last year. The change can be clearly seen in Pixel that Google is bringing on the Android platform. Google has also increased its privacy policies and added a lot to the operating system. Overall, there is a lot of new in Android 12. Here we are telling you which operating system is giving you more features.

What's special in iOS 15:

Apple hasn't changed much in the iPhone this year with iOS 15. This year Apple has focused more on the little things to make life easier. This time around, the interface is generally the same except for the new still wallpaper and redesigned notifications. This year Apple has worked on notifications. Now users can divide notifications into different profiles like DND, Driving, Work, Home. In this, if you choose someone, then iOS will send notifications only from those apps. Those that are not needed, their notifications will not be seen and all the notifications can also be seen simultaneously. This time the notification UI is similar to Android.
This time there is a lot of focus on notifications. This time it is like Android, in which you will have more control over the phone. If you enable DND, users who send you messages on iMessage will get information about your DND status. Apart from this, there have been many changes in FaceTime, such as background noise reduction, portrait mode effect in video calls and grid view in group calls etc. With SharePlay, iPhone users can watch videos or enjoy listening to music together through video calls. Apart from this, Android users can also make FaceTime calls with FaceTime link through web browser.
Apart from this, there have been changes in Safari with Smart Tab Management. This time the search bar is at the bottom, from which you can switch to go to the next. Now the camera can scan text from photos to copy to other apps or save them as notes. Spotlight Search now shows the photos and web information you care about. Siri can also be used offline. Lastly, when it comes to privacy, now all the apps you have installed will tell you where your data is being saved and how you can track it.
The iOS 15 update will be applicable to all new models starting from iPhone 6S models, including iPhone 7 series, iPhone 8 series, iPhone X, iPhone XS series, iPhone XR, iPhone 11 series, iPhone 12 series, iPhone SE, iPhone SE 2020 and more. iPod Touch 7th Gen is included.
What's special in Android 12:
This time in Android 12, the focus has been on privacy the most. Android has also paid a lot of attention to the design theme this time. This year Android 12 looks different from any other custom skin. It has a massive number of widgets and a great notification shade. Now in lockscreen, AOD and homescreen, the colors of the phone wallpaper will create the base of new colors. This time many themes will be color based instead of dark and light. At the same time, the Material U design theme will be limited to Pixel. This time you will get easy access to Google Pay and Home Control from the notification shade. This time Google Assistant can be accessed by pressing the power button twice.
This time Google will work faster than Android 12. CPU time will be reduced by 22 percent and the new animation experience will take a different level. Android TV Remote is now set by default from the system. Now Chrome browser will inform you about weak passwords and Google Assistant will advise you to change them immediately.
Thanks to Android 12, this time privacy will go to a different level. Like iOS 15, a new Privacy Dashboard app has been given that checks which app is using personal data through sensors. Although it does not track websites like iOS 15. Privacy indicators will inform users about device sensor access during the use of the app. Google is also improving the camera algorithm to make it easier for users of all colors.
The Android 12 update will work on Pixel 3 series, Pixel 3a series, Pixel 4 series, Pixel 4a series and Pixel 5 series. Apart from this, it is up to Android partners which devices they bring to support Android 12. OnePlus, Xiaomi, Asus, Oppo and Realme are to name a few of the big players participating in the beta.
.